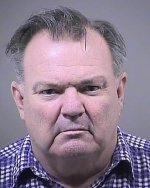 LA PLATA, Md. - The Charles County Sheriff's Office has arrested a 63-year-old Lanham man who sexually abused four boys, and Special Victims Unit (SVU) detectives are investigating whether there are additional victims who have not come forward.
SVU detectives began the investigation on Oct. 5 after receiving a report about the abuse. They discovered the accused, Karl Warren Hickerson, operated a charter fishing service and employed children to work on the boat. Hickerson sexually abused the children on the boat and in a trailer he owned nearby, where the children who worked for him would sometimes spend the night. The victims are described as young boys between the ages of 8 and 12 who reside in Charles County.
Detectives investigated the report of the initial victim and obtained an arrest warrant on Oct. 6 charging Hickerson with sexually abusing a minor, fourth-degree sex offense, second-degree assault and other crimes. The Prince George's County Sheriff's Office arrested Hickerson at his residence on Oct. 7 at 1:30 a.m. and released him to a Charles County Sheriff's officer, who served the warrant and transported Hickerson to the Charles County Detention Center. He was subsequently released on a $75,000 bond.
Detectives later learned of two more victims and obtained a second warrant for additional sex abuse charges on Oct. 8. A Charles County Sheriff's officer served the warrant on Oct. 11 and Hickerson is being held at the Charles County Detention Center in a $100,000 bond. Other sex abuse charges are pending against Hickerson for the abuse of a fourth victim.
Anyone with additional information regarding this investigation is asked to contact Det. S. Fetterolf at 301-609-6497.