The Charles County Arts Alliance (CCAA) is reminding local citizens that several visual artists will have their artwork on display in locations throughout Charles County during the month of August. The CCAA is the official arts council of Charles County.
Richard Clark Senior Center Gallery
(1210 Charles St., La Plata, MD)
Monday - Friday (9:00 am - 4:00 pm)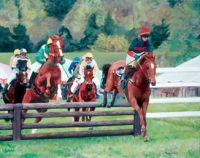 Mary Sokol was born in the village of Vincent, Ohio in 1947. She received a B.S. in psychology from Ohio State University and a M.A. in vocational rehabilitation counseling from the University of Alabama. In 2001 she obtained a Bachelor of Arts degree in Fine Arts from Corcoran College of Art and Design in Washington, D.C. She is married and has one son.
Mary has had several careers. Fresh out of her first Bachelor's degree, she worked as a Rehabilitation Counselor. Then a life threatening illness intervened and she decided she would stay home with her child and develop an Arabian horse breeding business. For ten years she bred, trained and showed Arabian horses before entering the field of rehabilitation management. Afterwards, she handled such positions as Executive Director of a nonprofit organization and was in charge of all operations of Charles County's Health Department, but she was not happy. She took an art course at the College of Southern Maryland and loved it. She began painting and drawing in 1997 and obtained a merit scholarship to the Corcoran College of Art and Design to help her receive her B.A. in Fine Arts. She decided that painting was the thing she wanted to do with the rest of her life.
Mary often uses a metal surface on which to paint and has devised an original painting technique in order to let the surface of the metal enter the painting as part of the composition. She likes to paint subject matter dealing with maternal love, immortality, birth and death and the creation of the universe. Another favorite theme is nature and animals - especially horses - as a way of telling modern man to slow down and "smell the roses". Mary has traveled extensively throughout North America, South America, Asia, Australia and Africa and also paints from scenes and memories of her travels.
Mary has had several solo shows, been in many juried shows and has sold art throughout the nation and internationally. In 2002 she was chosen for a scholarship at the Taos Art School in Taos, New Mexico, where she spent time learning to sculpt and paint the Arabian horse.
"When I paint, time has no meaning and hours become minutes," says Mary. "Painting comes from your emotions and must show what you are thinking or dreaming. That is the unique thing about art - each artist puts something of herself in each of her works."
County Commissioners' Gallery
(200 Baltimore St., La Plata, MD)
Monday - Friday (9:00 am - 4:00 pm)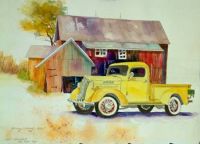 Gerry Wood has had a lifelong interest in art and was associated with painting as a child since her mother was an artist. A native of Tulsa, Oklahoma, she attended Oklahoma State University where she received her Bachelor of Science degree in Elementary Education. It was not until later in her married life, when the children were older, that she took up art. Gerry studied art in private classes, art workshops, and adult education/ community college classes-among the instructors-Frank Webb, Gary Akers, Skip Lawrence, Joe Mayer, Martha Hudson, Don Stone, Tony Couch, Olivia Trejo, Linda Griffin, Pat Dews, and Judi Betts.
Gerry was married to Eugene F. (Gene) Wood and together they were an artistic couple that exhibited their work in shows and bazaars in the region, the Unique Boutique Show, Annmarie Garden's Artsfest, Calvert Artists' Guild Shows, and were also featured artists on the cover of the St. Mary's County Guide 1997-1998 (published by the Rotary Club). Together they taught classes with Adult Education, Parks & Recreation, Commission on Aging, Pax River NAS, Charles County Community College, and private classes. Gene & Gerry held gallery shows, exhibitions, and entered juried shows winning many ribbons and awards. They enjoyed traveling together to art workshops, taking photographs, painting, fishing, boating, square dancing, and hunting. Gerry suffered the devastating loss of her painting companion, traveling partner, and beloved husband upon his death in December 1998. The Wildewood Village Café, in Wildewood Retirement Village, was dedicated to Gene Wood and contains their artworks.
Gerry continues to be active in art and is a signature member of the prestigious Baltimore Watercolor Society (BWS), Calvert Artists' Guild, Unique Boutique, Artworks @ 7th Gallery in North Beach, and CalvART Gallery in Prince Frederick. She has taught two Beginner's Watercolor Workshop Series as part of the Charles County Arts Alliance's Regional Visual Artist Workshops as well.
Gerry primarily paints in watercolors but does enjoy acrylics and collage, and her favorite subjects are landscapes, lighthouses, florals, "fantasy fish series" and new themes "New Orleans mansions" and "classic cars." To obtain artwork, prints, notecard stationery, or commissioned works, Gerry may be reached at her home studio (301-863-WOOD), or at gbwood2@verizon.net. Visit her website at www.artbygerry.com.
CCAA Gallery at the United Way
(10250 La Plata Rd., La Plata, MD)
Monday - Friday (9:00 am - 4:00 pm)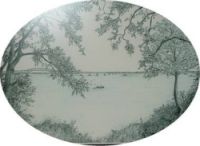 Susan Boarman uses black and white in many of her pencil drawings to create a sense of the past. In other drawings she prefers rich natural colors to capture the beauty of today's Southern Maryland landscape or the sun reflecting through clouds over the Potomac River.
Susan's self taught style draws attention to itself. A casual glance often becomes a nose-to-glass scrutiny, as the viewer is drawn in by the intricate details. Trees are drawn leaf by leaf, barns doors show nails and rust stains. Birds have individual feathers. One picture has turkey tracks in the dust and a horseshoe is nailed by the door. In another, a deer hides among the vines growing over an old home place.
All of Susan's drawings are of real places in Southern Maryland. Most are visible along the back roads. Anyone who's been to the Popes Creek Crab Houses will recognize the view in "Potomac River Bridge and Boats."
Susan Boarman is a lifelong resident of Charles County. She and her husband Bobby have three children and are enjoying their first grandchild.