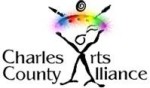 The Charles County Arts Alliance's most ambitious cultural event of our year, River Artsfest, took place on Saturday, June 10, 2006 on the Village Green in Indian Head. It was a great success! Local and regional visual, performing, and literary artists as well as environmental, educational, and historical exhibitors participated in River Artsfest. We presented over 45 exhibitors of all types, and over 20 live performances (music, drama, dance, storytelling) nonstop on three stages throughout the day. A record-breaking 1500 people attended the event this year, making it a fabulous day celebrating ALL the arts in Charles County and Southern Maryland!
The CCAA has been presenting "Artsfest" in Charles County since 1990. It is the grand finale of our year, and our "free gift" to our fellow citizens for their enjoyment. Last year, we added the "river" theme, and created two festivals in one—an arts festival and an environmental festival—celebrating our four rivers in Charles County: the Potomac, Patuxent, Port Tobacco and Wicomico rivers. These four beautiful rivers and their surrounding unique habitats serve as a source of inspiration for our local artists, along with the wonderful and priceless Chesapeake Bay, the "mother of the waters."
The Charles County Arts Alliance would like to express its heartfelt gratitude to the Town of Indian Head for again partnering with us in presenting this year's event; the National Endowment for the Arts, Maryland State Arts Council, Charles County Government and Office of Tourism, SMECO, Comcast, Chaney Enterprises, and Moore Web Design for co-sponsoring the event; The Nanjemoy Creek Boys for providing and operating the outdoor sound system and serving as outdoor Master of Ceremonies; Port Tobacco Players for providing and operating the indoor sound system, and Grace Brethren Church for serving as indoor Master of Ceremonies; our wonderful volunteers; all those who assisted in publicizing the event; all artists, exhibitors, and food vendors who participated; and most especially, all the members of our Southern Maryland community and beyond who attended River Artsfest. Thanks for your continuing enthusiasm and support.
Please mark your calendars for June 9, 2007, when next year's River Artsfest promises to be even bigger and better . . . you won't want to miss it!
To see a multitude of pictures from our event and to share your own thoughts and feedback, please visit the website of the Charles County Arts Alliance:
http://www.charlescountyarts.org/
. Thanks again, and see you next year!
Cindy Johnson
River Artsfest Chair
Charles County Arts Alliance, Inc.
La Plata, MD