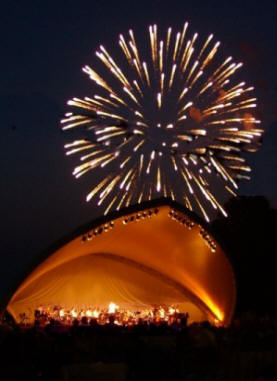 Chesapeake Beach Fireworks
Friday, July 1, 2016 @ Dusk
Rain Date July 3, 2016 @ Dusk is in effect due to high winds on July 1
Chesapeake Beach Waterfront [ View Map ]
Join us along the waterfront to watch the annual patriotic fireworks display over the Chesapeake Bay. This event is free to the public. Arrive early for easy parking. Enjoy our own Chesapeake Beach Water Park (fee), our beaches (fee) and our local restaurants and cafes. Ryan Forrester band performs in Veterans' Memorial Park from 7 p.m. until dusk. Fireworks begin at dusk with synchronized music, which may be heard at Veterans' Memorial Park, the Chesapeake Beach Water Park, the Chesapeake Beach Resort & Spa Complex, or by tuning your radio to 87.9 FM. Town of Chesapeake Beach Web site.
Fireworks Cruise Aboard the Wm. B. Tennison
Monday, July 4, 2016 @ 8 p.m. until...

Solomons Fireworks postponed until Friday, July 8 (standby for update about the cruise)


Calvert Marine Museum
14200 Solomons Island Road South
Solomons [ View Map ]

Come aboard for the best view of the Solomons Fireworks in town and heavy hors d'oeuvres. Due to space limitations, preregistration is required. Call 410-326-2042, ext. 41. Calvert Marine Museum Web site.

Note: Refunds will be issued if the event is cancelled, according to CMM.
Solomons Fireworks
Monday, July 4, 2016 @ 9 p.m. Friday, July 8, 2016 starting between 9:15 and 9:30 p.m.
Rain Date July 5, 2016 July 9, 2016 (last chance)
Solomons Island-wide [ View Map ]
Solomons Island Website
The Solomons Business Associations proudly sponsors the annual Solomons Independence Day fireworks display. Fireworks will be shot from a barge in the Patuxent River and can be viewed from the Riverwalk. Celebrate our nation's birth and show your colors all day long! The Fireworks will be preceded by activities throughout Solomons, sponsored by individuals and businesses.

The Solomons fireworks display will be shot from a barge in the Patuxent River and can be viewed from the Riverwalk.

Vehicular traffic on the island will be restricted, and parking will be directed to designated areas only. Parking at Glascock Field is $10 per car with proceeds to support the SBA Fireworks and Boy Scout Troop 451.

Police also remind people that Myrtle Point Park, in St. Mary's Co., is not to be used as a viewing area for the Solomons Island Fireworks due to the park being closed.
St. Mary's College River Concert Series
Friday, July 1, 2016
Near the Townhouse Green Residences
College Drive, St. Mary's City [ View Map ]
Music of Sousa, Filmore, Clarke, Anderson, Chicago, Blood Sweat and Tears, Prince, James Brown and more! And Fireworks! Music performed by the Chesapeake Orchestra. River Concert Series website.
Hollywood Volunteer Fire Department
Saturday, July 2, 2016; Kickoff at 5p.m., Live Music 6-10, Fireworks at dusk
24801 Three Notch Road, Hollywood
On Route 235 just north of the Leonardtown-Hollywood Rd (Rt 245) intersection
[ View Map ]
Come out and join us for our Annual Independence Day Celebration. This event is put on by the Members of the Hollywood VFD as a way of giving back and saying thank you to the Community that supports us year after year. The Fireworks display is one of the Largest in the area and we also provide a free concert before the Fireworks. Also we have the Carnival set up including games and food with $5 Armbands to ride all night. Please stop by and have a great time at this family friendly event. FIREWORKS DISPLAY AT DUSK. Hollywood VFD website.
Country Life Festival
Saturday, July 2, 2016; Festival runs 9 a.m. until 9p.m., Fireworks start at 9 p.m.
St. Mary's County Fairgrounds
42455 Fairgrounds Road, Leonardtown
[ View Map ]
The festival runs from Friday through Sunday; Fireworks are Saturday night. Live music, local craft beer, exhibits and participation events like the cornhole tournament. There is an admission fee for ages 5 and older. More information is available at the Festival's website.
Celebrate Charles: A Fun Filled Fourth
Monday, July 4, 2016 @9:30 p.m. (rain or shine)
Regency Furniture Stadium
11765 St. Linus Drive, Waldorf
Enjoy a memorable Independence Day with family and friends at the 2016 Celebrate Charles: A Fun-Filled Fourth on Monday, July 4 at Regency Furniture Stadium (11765 St. Linus Drive, Waldorf) from 4:30 p.m. to 9:30 p.m.

Event schedule:

• 4:30 p.m. Best of Charles County Marketplace opens

• 4:30 p.m. Celebrate Charles Family Fun Zone begins

• 4:30 p.m. Music by DubCity Renegades

• 7:05 p.m. Southern Maryland Blue Crabs baseball game vs. Somerset Patriots

• 7:30 p.m. Music by No Green JellyBeenz

• 9:30 p.m. Fireworks Display

Admission and parking are free. Family Fun Zone wristbands are $5 each. There are additional fees for marketplace, food, and drink purchases.

Additional parking will be available at St. Charles High School (5305 Piney Church Road, Waldorf). Seating outside the stadium is limited. Guests are encouraged to bring blankets and chairs.

Guests who purchase game tickets will receive a complimentary wristband for the Family Fun Zone. To purchase tickets, call 301-638-9788 or visit www.SoMDBlueCrabs.com. For more information about the event overall, visit the Celebrate Charles Website.

Note: Event website says event will take place rain or shine, but may be best to double-check the site if it is raining that day just to be sure.
Town of Indian Head 4th of July Celebration & Fireworks
Monday, July 4, 2016 @ 9:10 p.m. (rain or shine)
The Village Green and Pavilion
100 Walter Thomas Road, Indian Head [ View Map ]
The Day kicks off with a Patriotic Opening Ceremony at 3:30pm. There will be amusements, live entertainment (4pm-8pm: DJ Rockin' Roger; 6pm-9pm: One Louder Band), and food available for sale. No pets of any kind or alcoholic beverages permitted. Free admission. For more information call 240-375-4061 or visit the event page. Town of Indian Head Web site.
Town of La Plata Independence Day Watermelon Bash
Monday, July 4, 2016 @ 10:30 a.m. - 1:30 p.m. (no fireworks at this event)
Grounds of the La Plata Town Hall
305 Queen Anne Street,
La Plata
[ View Map ]
Join us for hot dogs, games, wet fun, and plenty of watermelon! Event is wheelchair accessible. Town of La Plata Web site.
If we missed something, please let us know.
Please note that this page is for Fireworks displays only. There are many more events scheduled for the tri-county area. You can find these listed in the Community Calendar.