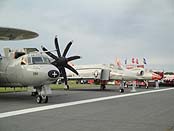 NAS Patuxent River Air Expo 2016
October 29 - 30, 2016
On October 29-30, experience one of the largest air shows in Maryland at the Naval Air Station Patuxent River Air Expo. Get up close to the action and tour aircraft, meet pilots and other aeronautical professionals, enjoy activities, food, displays and general entertainment on the runway. Visitors can witness the US Air Force F-22 Demo Team, US Army Black Daggers, and lots of other flight demonstrations. LEARN MORE
Where are the Fish Biting in the waters around St. Mary's?
Learn the latest on where the fishing is good with our weekly Fishing Report blog, written by Ken Lamb of The Tackle Box. With Trophy Rockfish Season underway, you won't want to miss out on that big catch! Be sure to follow the blog weekly. You can even sign up to get and email alert when the latest post goes live. LEARN MORE.