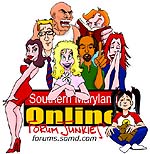 We've recently upgraded the community forums to include many new features and a cleaner look. You can also participate instantly using your Facebook login (just click on the FB Connect icon at the top of every page).

We now provide a mobile-optimized style for people using smart phones and tablets. Additionally, We support a dedicated mobile app called Forum Runner which is available for IOS and Android. Now you can be in touch no matter where you are!

Finally, we've added 2 new forums. The Public Service Announcements (PSAs) have been moved to a dedicated forum. Now you can post your annoucement using rich formatting and include attachments. There is also the new Conspiracy Theory, Prepping, UFOs, the Esoteric forum for your entertainment.