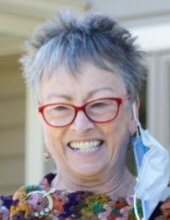 Patricia Lynn (Kuzmick) Pierce of Dover, Delaware, formerly of St. Mary's County Maryland, passed away peacefully on December 31 at the age of 74 following a long battle with Pancreatic Cancer.

Patty was born in Miami, Florida on December 25, 1946. She is survived by her husband Ron, her children, Michele of Gaithersburg, Maryland and son Kyle of Front Royal, Virginia. Patty had three grandchildren, Eleanor in Maryland and Dylan and Colin in Virginia. She also is survived by her sisters, Pam Jackson in Brighton, Colorado and Phyllis Brower of Tiverton, Rhode Island.

Patty attended the University of Florida, in Gainesville, obtained a bachelor's degree from TCU in Fort Worth, a Master's Degree in Music Education at the Shenandoah Conservatory in Winchester, Virginia, an advanced degree in Theology from the University of the South, and did additional coursework at Northwestern University in Illinois. She also studied and sang with Robert Shaw at Princeton University.

PK (Patty) was the Chorale Director at Chopticon High School in Maryland for 30 years. During her extensive career she won numerous awards, including Teacher of the Year. Her pride and joy were her high school elite group, Chopticon Peace Pipers, and the Men's and Women's choruses. The choral program flourished with her producing and directing many musicals and performances leading to lifelong special relationships. Patty also created and conducted St. Marie's Musica Choral Group. She served as the musical director for the Trinity Episcopal Church in Saint Mary's City; which was a cherished and valuable role in her life.

Patty served as a member of the Maryland Choral Educators Association, including a period as the Association's president, where she helped launch the first senior Woman's All-State Chorus, hosted workshops, and served as an adjudicator for district and state choral festivals. She and her dear friend Eunice Leopold even created the first choral adjudications in Maryland. She also directed many honor choruses throughout the state. Additionally, Patty auditioned and sang with The Washington Chorus for several years, a personal and professional accomplishment.

Extensive traveling, including educational trips to Europe with students, was important to her. She continued to travel with husband Ron, her two sisters, and her best friend Carrie. Patty loved playing golf, which included two holes in one! She was an avid fan of the Florida Gators and the Dallas Cowboys. In the last few years she began playing the harp which brought her great enjoyment and comfort. Her practice of yoga and walking her labyrinth were important daily rituals for her.

In lieu of flowers, Patty had asked for donations to be made the Pancreatic Cancer Action Network. Click here to make a donation.

A special tradition that Patty began with her Peace Piper groups was to sing "The Lord Bless You and Keep You" before every performance, every practice and even sometimes when they were together socially. Two years ago, over 50 of them "gathered" virtually, and sang the song to Patty. The YOUTUBE video of that "performance" can be seen by clicking HERE:
https://www.youtube.com/watch?v=gu9v5fuFOqk.