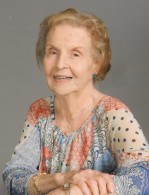 Catherine Louise Stalcup, "Cappy" 99, of Peoria, AZ, formerly from Hollywood, MD, passed away on November 9, 2020 in Peoria, AZ. She was born September 5, 1921 in Mt. Rainer, MD, to the late Elizabeth Gertrude Laughton and Leroy Marsh Laughton. Catherine was the loving wife of Ulysses "Rocky" Stalcup whom she married on March 14, 1941 in Mr. Rainer, MD, and who preceded her in death on September 17, 2008.

Catherine is survived by her children; Linda Stalcup, of Peoria, AZ, and Beverly Grass (Eric), of Sun City, AZ, 2 grandchildren, 3 great-grandchildren, and 3 great-great grandchildren. Catherine is preceded in death by her two sisters; Gertrude Gellatly, and Dorothy Kinsey.

Catherine graduated high school in 1938. She was more than a homemaker, she was a caregiver to her mother-in-law and to her daughter, Linda. She supported her husband who was a musician and legally blind. She never complained and never had a headache. She sewed her children's clothing until they were teenagers. But her true passion was art. She preferred chalk pastels and watercolors. Many of St. Mary's County's residents own portraits that she created. She won Best of Show in the 1990's when all of Maryland's counties held a competition. She was so thrilled that her feet barely touched the ground. Those who knew her described her as sweet and beautiful, inside and out.

The family will receive friends on Friday from 10:00 a.m. to 11:00 a.m. at the Mattingley-Gardiner Funeral Home, Leonardtown, MD; Where a Funeral Service will be held at 11:00 a.m. in the Funeral Home Chapel with Reverend John Kinsey officiating. Interment will follow at Charles Memorial Gardens. Serving as pallbearers will be Eric Grass, Steven Gregory, David L. Van Wyhe, David M. Van Wyhe, Donald Van Wyhe, and Daniel Van Wyhe.