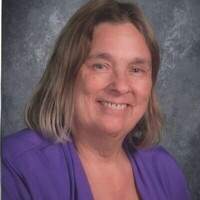 Carol Linda Samuel, 67 of Leonardtown, MD passed away on November 8, 2020 at home with her family by her side.

Carol was born on December 25, 1952 in Baltimore to Robert Rutherford and Ellen May Gardiner.

Carol grew up in Baltimore, MD until she moved to St. Mary's County in 1974. She married John Alvin Samuel on December 28, 1977 in Leonardtown, MD and have spent 42 wonderful years with each other. Together they raised four wonderful children. Carol was employed with the St. Mary's County Public School System as a Para Professional until she retired in 2015. She enjoyed cruising around town in dads many antique cars. She loved his 1923 T Bucket Roadster. She loved cruising around on ships with her family. She went on at least 2 a year for many years. She loved to read books and different scandalous magazines. She was a big fan of Elvis Presley's music and movies. She was passionate about mentoring young adults. Carol was especially happy doing arts and craft projects with her grandchildren and great grandchildren. She absolutely loved celebrating Christmas from decorating the house from top to bottom and everywhere in between to wrapping all the presents she loved buying. This was her favorite time of year. For Carol the most important thing to her was family and spending time with them.

She is survived by her husband John Alvin Samuel; her children April Frederick (Ryan) of Hollywood, MD; Jay Johnson (Sandee) of Leonardtown, MD; Bobby Samuel (Erica) of California, MD and Timmy Samuel of Leonardtown, Md., her brother Howard Rutherford (Ginny) of Baltimore, MD and sister, Roberta Merrill (Buddy) of Florida; her Grandchildren are Bj, Mikey, Austin, Kylie, John Charles, Jackie, Jenny, Becky, Christina, Brandon, Cobi, Mia and Ethan; and her great grandchildren Ricky, Mandy, Justin, Haley, Katie, Kera, Mari, Lola and Molly and Ryan.

The family will receive friends on Friday, November 13, 2020 from 5:00 to 8:00 p.m., with a Funeral Service celebrated by Reverend Joe Orlando at 7:00 p.m., at Brinsfield Funeral Home, 22955 Hollywood Road, Leonardtown, MD 20650.

Condolences to the family may be made at www.brinsfieldfuneral.com.

Arrangements by the Brinsfield Funeral Home, P.A.