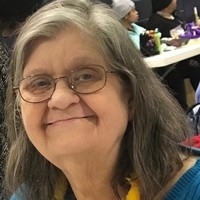 Barbara Ann Edwards, 74, of Newburg, Maryland passed away peacefully at MedStar Washington Hospital Center, on Friday, March 20, 2020. Barbara was born on August 22, 1945, to the late James Wathen and Frances Theresa (Owens) Wathen of Compton, Maryland. She was the oldest of eight children.

She devoted her life to being a wonderful, caring and loving mother of four (4) children. Barbara met the love of her life, Norman Henry DeMarr, Sr., and together they combined their families giving the couple eight (8) children and then having a child of their own therefore completing their family with a miraculous nine (9) children. With a blended family Barbara had everything she ever dreamed until the untimely passing of her love, Norman, in 1997.

To say Barbara lived a perfect life would be false, but she always had a smile and happiness in her heart. She was hard working, spirited and a genuine ray of sunshine. She worked as a child and young adult in the tobacco fields with a strong back and unbreakable spirit. She raised her children during both hardship and jovial times and watched them grow and then welcomed her precious grandchildren and eventually great-grandchildren.

She loved spending time with her family. Trips to the County Fair, Winterfest or the Zoo brought out the childlike wonder Barbara never lost and she cherished those memories with her great-granddaughter, Skylar. She went to BINGO most Saturday evenings with her cherished granddaughter, Sheri, to listen for her numbers to be called. On a lazy day, you could find her putting together a puzzle or playing cards. She'd over the last few years, began camping with her youngest daughter, son-in-law and grandson, Daniel and enjoyed exploring the campgrounds and sitting beside the campfire in the evenings. An animal lover, she found peace sitting back with a puppy in her lap and her shows on the television.

Barbara was dearly loved by everyone but she loved no one more than her family. Whether you knew her as Barbara, Mom, or Grandma you knew she loved you deeply. She never met a stranger and would give anything to help you out. A truly kind and loving woman has left us. Her family is taking solace knowing she is in heaven with her beloved Norman. As the sun sets and you look up into the fading light of day, know Barbara is watching from above with all the love, joy and happiness you brought to her. She is the beauty in the sky, the wind in the leaves and in the baby giggles of future generations.

Barbara is survived by her mother, Frances Theresa Wathen of Compton, MD; children, Philip Charles Edwards, Jr. (Stacie) of Westover, Maryland, Betty Ann May of Palm Bay, FL, William "Willie" Wesley Edwards of Palm Bay, FL, Richard "Ricky" Allen Edwards of Cumberland, MD, Veronica Lynn Matlock (Chuck) of Mechanicsville, MD, Roger W. DeMarr, of Hollywood, MD, Norma C. Thompson of Bluefield, WV, Joseph W. DeMarr (Janice) of Brandywine, MD and Norman "Pete" Henry DeMarr, Jr. (Robin) of Tazewell, VA; many grandchildren; and many-many great-grandchildren. She is also survived by her siblings, Peggy Kraft, Mike Wathen, Sr., Debbie Starr, Margie Wathen Magathan, Marie Magathan, and Brenda Quade. Along with her father, Barbara is preceded in death by her forever love, Norman Henry DeMarr, Sr., and brother, James Wayne Wathen, Sr.

Barbara's family will announce information for a Memorial Gathering at a later date. All arrangements have been made at Brinsfield Funeral Home & Crematory, P.A.