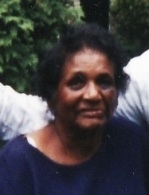 Mary Emily Dyson, 96, of Abell's Road, Abell, MD passed away on January 10, 2020 in Leonardtown, MD. Born on January 8, 1924 in Bushwood, MD she was the daughter of the late Mary E. Armstrong and Raymond I. Armstrong, Sr. Mary was the loving wife of the late James Benjamin Dyson, who she married on July 5, 1942 in Sacred Heart Catholic Church Bushwood, MD and whom preceded her in death on September 26, 2015.

Mary is survived by her children Mary Clinton of Washington, DC, Dulca A. Ball of Lexington Park, MD, Raymond Dyson of Forestville, MD, Agnes A. Somerville of Waldorf, MD, 11 grandchildren, 9 great-grandchildren, and 1 great-great grandchild. As well as her sister Gertrude Butler of Washington, DC. She was preceded in death by her son James H. Dyson.

Mary was a lifelong St. Mary's County, MD resident. She attended Bannker High School, and received her GED. Mary was a cook at Capt. Sam's, Pennies, Baileys, and Jefferson Island Club, retiring in December, 1984.

The family will receive friends on Thursday, January 16, 2020 from 10:00 AM to 11:00 AM in Holy Angels Catholic Church Avenue, MD; where a Mass of Christian Burial will be celebrated at 11:00 AM with Father Samuel Plummer officiating. Interment will follow in Sacred Heart, Bushwood, MD. Serving as pallbearers will be Kevin Dyson, James Ball, Jr, Cecil Somerville, Wayne Thomas, Joseph Broome, and Francis Broome.