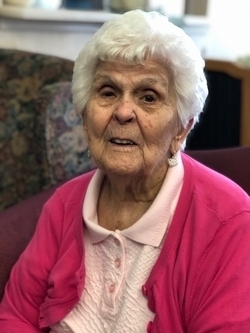 Mrs. Virginia M. McGovern, a longtime resident of Calvert County, died after a brief illness on January 11, 2020 at the age of 99. Called "Granny" by most who knew her, Virginia Miller was born in 1920 in Washington DC, was raised in Chillum MD, and attended Mr. Rainier High School. She and her 4 siblings worked on her family's truck farm where she met her husband, Marshall McGovern. She was mother to 4 children and traveled with her family after WW II, living in Germany, Italy, and Panama. Granny was active in the air force community and the Red Cross, gaining a reputation as a superb swimming teacher and water safety instructor. She loved crabbing, fishing, and her many hobbies.

Virginia was preceded in death by her parents, her siblings, sons Ron and Steve, infant daughter Donna, and grandson Andrew. Yet despite those many losses and heartbreaks, she lived a wonderfully joyful life, touching each person she knew in her own very special way. She is survived by daughter Jan Turner, 4 grandchildren, 10 great grandchildren and many loving nieces, nephews, and countless devoted friends.

A memorial service will be held on Tuesday January 21, 2020 at St. Paul's Church in Baden Maryland. After which all are invited to a share remembrances and a celebratory meal at the adjacent parish hall, internment will be private.