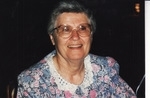 Mary Jane Mattingly, 90, of Leonardtown, MD passed away on March 10, 2019 in St. Mary's Nursing Center. She was the daughter of the late Charles & Agnes Mattingly. Mary Jane was born on August 28, 1928 in Leonardtown, MD. She is survived by her siblings: Anne Mattingly of Culpeper, VA, Margaret Yowaski of Leonardtown, MD, Ruth Brown of La Luz, NM, Joe Mattingly of Chaptico, MD and Joan Raley of Avenue, MD. In addition to her parents, Mary Jane was preceded in death by her brothers Charles "Jenks" Mattingly, Jr., Miles Mattingly and her sisters Mary Agnes "Sis" Farrell and Betty Potts. She was also preceded in death by two very special friends, Hope Greenwell and Patricia Murray.

Mary Jane grew up in St. Mary's County as a young child. She attended St. Mary's Academy and after high school graduation in 1951, she went away to attend Towson State where she would fulfill her ambition to become a teacher. Upon graduation in 1955, Mary Jane was appointed elementary teacher at Mechanicsville School. She transferred to Great Mills Elementary in 1958 and remained there until 1972 when she moved to Leonardtown Middle School. All in all Mary Jane gave 30 years to the children of St. Mary's County. Her students always talked about her with great warmth and admiration. They boasted about the things they learned from her, lessons for life as well as lessons for school.

After retirement Mary Jane continued interest in woodworking and moved to Cecil County to live with her friend Pat Murray. Mary Jane and Pat traveled the world through the next chapter of her life until health would not allow her to travel anymore. Mary Jane moved back to St. Mary's County in July 2015 and resided at St. Mary's Nursing Home until her death. The staff/residents of the nursing Home fell in love with Mary Jane as soon as she stepped foot in the door. She was always blessing everyone and helping out.

Mary Jane was admired for her personality and love for life till the very end, especially the love for God. She was a very religious lady. Mary Jane always smiled and had kind words for everyone that came in contact with her. Never once did she lose heart in spite the monster that ate away at her brain. The last couple of years have been especially tough for her but she never gave up. Mary Jane prayed right to the end. Our hearts grieved but at the same time glad because Mary Jane knew Jesus and has gone home to be with Him. She has joined her parents, many siblings and friends in the Heaven above. One can just imagine the grand reunion they are having as we speak.

The family will receive friends on Friday, March 15, 2019 from 9:00 AM - 10:00 AM in Holy Angels Catholic Church Avenue, MD where a Mass of Christian Burial will be celebrated at 10:00 AM with Father Samuel Plummer officiating. Interment will following in St. Aloysius Catholic Cemetery Leonardtown, MD. Pallbearers will be: Ronnie Farrell, Bobby Mattingly, Mike Yowaski, Al Raley, C.D. Raley, and Richard Potts. Memorial contributions may be made to Holy Angels Church and/or St. Mary's Nursing Center. Arrangements by Mattingley-Gardiner Funeral Home.