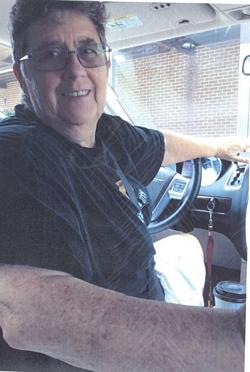 Carolyn Sue Paris (70) of Waldorf, MD passed away peacefully at home on 03/10/2019 surrounded by her family after a long illness. Carolyn is preceded in death by her father and mother, O.G. "Buster" and Faye Martin of Memphis, MO., and siblings Pauline, Bud, Billy, Dorothy and Mary.

She is survived by her wife of thirty years, Tammi Morris of Washington DC., and her family; Doris Orton of Memphis, Mo., Margret Witmer of Cocoa Beach, FL., Jan Petersen of Kansas City, MO., by her two sons James "Chad" Paris (Jennifer Paris) and Chris Paris from her first marriage and her seven grandchildren Bobbie Paris, Jeri Hurst (Chardannay Hurst), Jimmy Paris, Rachele Paris, Sarah Paris, Mary Paris, and Samuel Paris and her great-grandchildren Lillian Hurst and William Truman.

Her professional accomplishments included promotion from a bus driver to a bus driver trainer for Prince George's County Maryland school system, instituting the first school bus rodeo in Prince George's County, teaching driver's education, and being active in the ACE\AFSCME Local 2250 Union as a shop steward.

Carolyn loved to be near the water. Many family memories were made near the beaches and shores of Maryland crabbing, fishing, or just enjoying the sun and the waves. Carolyn and Tammi spent vacations in Cape Cod taking in the sights, sea, and spray of the whales. She was the true matriarch of her family and took great pride in her children, grandchildren and great-grandchildren not only for their accomplishments but also for the content of their character.

Her unconditional love, support, and sage wisdom will be greatly missed.