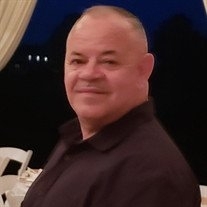 Charles Randolph Thompson (Randy), born July 12, 1959 in Charles County, Maryland, departed unexpectedly on Monday December 3, 2018 at 9:02pm at his home. Randy loved his racing cars, spending a lot of his time at Budds Creek and Capitol Raceway. Back in the day, he did the racing but in recent years he went to track supporting his sons. When there was no track or car show, he was on the road with his wife Darlene going here, there, and everywhere - most times not starting out with destination. The whole family is heartbroken. He is gone for now, but never forgotten.

Randy leaves to cherish his wife of 37 years, Agnes Darlene Thompson; three sons, Charles Randy, Carl Maurice, and Roger Lee Thompson; three brothers, James Ernest (Cherry), John Hugh (Susie), and Thomas Clifton Thompson; four sisters, Carolyn Lee Johnson, Michelle Teresa Thomas, Belinda Thompson and Agnes Christine Thompson; mother-in-law, Agnes Hilda Proctor; sisters-in-law, Dana Harley (Jerry), Valerie Proctor, Susan Short (Pig); honorary sister-in-law, Joyce Tolson; godsons, Jerry Harley, Jr. and Jerrell Thomas; and several nieces and nephews.

Friends received on Thursday, December 13, 2018 from 9:30am until Mass of Christian Burial at 11am at St. Ignatius Chapel Point Catholic Church, 8855 Chapel Point Road, Port Tobacco, Maryland 20677. Interment to follow in the church cemetery. Memorial contributions in Randy's name are asked to St. Ignatius Church, 8855 Chapel Point Road, Port Tobacco, Maryland 20677.