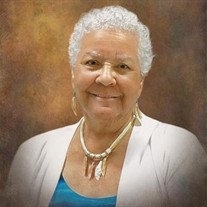 Suddenly on Thursday, November 29, 2018, Mary Thelma Proctor entered eternal life into His heavenly kingdom. Thelma was born on July 15, 1934 to the late Robert Lee and Viola Proctor. In addition to her parents, she was also predeceased by her husband, Jerome Proctor, Sr.; her son Nathan Ellsworth, her brother, Ambrose, and her sisters, Dorothy and Diane.

Thelma was raised on the family farm. She was educated in Charles County Public Schools and later went back to proudly earn her high school diploma. Thelma worked at Indian Head Naval Ordnance Station, drove a school bus for CCPS, and was a caseworker at Charles County Maryland Department of Social Services where she retired after 30 years of service. Thelma loved her flower garden, crafts ,and especially shopping. She enjoyed her time with friends at the Senior Center in Indian Head, MD and retiree luncheons.

She was married to Jerome Proctor, Sr. and from this union were six children: Jerome Jr. (Robin), Stanley (Helen), Bruce (Marlene), late Nathan Ellsworth, Trudy (Roland) Gaines and Terrie (Walter) Sherrod. Thelma is survived by two sisters: Ruth and Sheila; three brothers: Oscar Comillias, Carroll (Donna), and Donald (Adelaide).; one brother-in-law, Garnell Proctor; five sisters-in-law, A. Marylee Proctor, Cecelia Proctor, Jeanette Jones, B. Ann Proctor and Carlene Watson. She also leaves 11 grandchildren, 17 great-grandchildren, and a host of loving nieces, nephews, other relatives and friends.

Friends received on Wednesday, December 5, 2018 from 6:00-8:00 PM with Catholic Prayers at 7:30PM at Raymond Funeral Service, 5635 Washington Avenue, La Plata, MD. Mass of Christian Burial on Thursday, December 6, 2018 at 11AM at St. Joseph's Catholic Church, 4590 St. Joseph Way, Pomfret, MD 20675. There will be No viewing on Thursday before Mass. Interment to follow in the church cemetery.