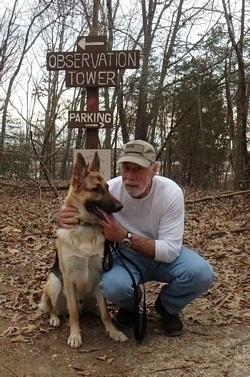 Frank Joseph Storck, 63, of Owings passed away November 29, 2018 surrounded by family. He was born June 28, 1955 in Frankfort on Main, Germany to Joseph Urban Roosevelt and Renate Antoine (Ritzrow) Storck. He was raised in Germany, moving with his family to Georgia, where he graduated from Hephzibah High School in 1973. He then attended Augusta Tech where he studied advertising.

Frank was employed in construction for the state of Georgia and later joined the Navy in 1978, retiring after 20 years of service. Following his retirement from the military, he continued working in the home improvement industry, working at Dunkirk Supply and Johnson Lumber. He later worked for Complete Home Solutions. Frank enjoyed being outdoors, diving, kayaking, hiking and playing guitar. He was creative and artistic and enjoyed repurposing things, his motto was "one man's trash is another man's treasure." He was also an avid Seattle Seahawks fan and loved spending time with his family and dog Atlas.

Frank is survived by his wife Rebecca Lee Storck and children Jack Camp and wife April, Danielle Storck Marshall and husband Michael, Kristofer Mills and Amy Storck and granddaughter Sloane Elizabeth Camp. Also surviving are sisters Sharon Donaldson and Michelle Storck and a brother Rick Storck. He was preceded in death by his parents.

In lieu of flowers, donations in Frank's name may be made to an animal shelter of one's choice. Arrangements by Rausch Funeral Home.