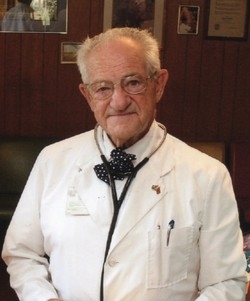 Eugene James Guazzo, M. D. died Sunday, April 8, 2018 at 88 years of age at St. Mary's Hospice House with his wife, Shelby Palmer Guazzo, at his bedside. In 1968, Dr. And Mrs. Guazzo moved to St. Mary's County. They had been encouraged by St. Mary's physician, Dr. J. Roy Guyther, to come and see the rural, family oriented communities that made up the county. They settled down to work and raise their family, first at Cremona Farm and later at their own farm in Maddox. Before his retirement in 2008, Dr. Guazzo was Board Certified in Family Medicine and a family physician for 40 years at his office in Chaptico. After his retirement, Dr. Guazzo enjoyed working as a substitute teacher for the county school system. They were married for 56 years.

Dr. Guazzo was predeceased by his parents, Eugene Camillo Guazzo and Augustina Pivano Guazzo, and his sister, Lucille K. Schusler. In addition to his wife, he is survived by his four children: Eugene Tai Guazzo (Cheri) of Riverdale CA, John Palmer Guazzo (Caroline) of Falls Church VA; Dante Edward Guazzo 2nd (Emine) of San Francisco CA; and Shelby Smith Guazzo (David Mattis) of Denver CO. There are six grandchildren: Samantha and Juliette Guazzo, Leyla Grace and Indigo Rose Guazzo, and Dorian John and Mila Shelby Mattis. He is also survived by his niece, Jeanne Schusler Ten Broeck and her son David W. Ten Broeck (Heather) all of Baltimore MD.

Dr. Guazzo graduated from Auburn University, AL, with a BS in Education and a MS in Psychology. He received his Doctor of Medicine degree from Duke University School of Medicine, Durham NC. His post graduate training was at Hunterdon Medical Center, Flemington, NJ; followed by a fellowship at Harvard University, Boston MA. Dr. Guazzo supported his professional organizations; the American Medical Association and the Medical and Chirurgical Faculty of Maryland. For many years, he enjoyed being a member of the Maryland State Medical Ethics Commission.

He was a Lieutenant in the U. S. Navy and is a disabled Korean War veteran, but resigned his commission to enter medical school. His last assignment was with the U.S. Navy Aircraft Squadron VW 4, known as the Hurricane Hunters. Dr. Guazzo took great pleasure in sailing small boats on the rivers and the Bay around our county and riding to hounds with the De La Brooke Foxhounds W Hunt. As the Master of the Hunt he secured the Hunt's national registration with the Masters of Foxhounds Association of America.

He was a member of the Southern Maryland Society, the Vansville Farmer's Club, the St. Mary's County Farm Bureau, the St. Mary's Riding Club and the St. Mary's River Yacht Club. He was one of the original members of the St. Clements Hundred and a longtime supporter of the St. Mary's Historical Society as well as the Friends of the St. Clements Island and Piney Point Museums. He was a member of the Disabled American Veterans and the American Legion Post 221.

Growing up as a boy, in the City of Orange, NJ, Dr. Guazzo joined the Boy Scouts of America. He was always thankful for the leadership training and of learning to set achievable goals so early in life. He achieved the rank of Eagle Scout and continued to support the B.S.A throughout his life. Dr. Guazzo was a member and lay reader first at All Faith Episcopal Church, Mechanicsville MD, and later at Christ Episcopal Church, Chaptico.

Visitation will be held Thursday, April 12, 2018 from 5:00 PM until 8:00 PM, at Brinsfield Funeral Home, 22955 Hollywood Road, Leonardtown MD 20650. Prayers will start at 7:30PM conducted by Rev. Christopher Jubinski, Rector of Christ Episcopal Church Chaptico. Funeral services will take place Friday, April 13, 2018 at 11:00 AM at Christ Episcopal Church, 37497 Zach Fowler Rd, Chaptico, MD 20621. Interment will follow in the church cemetery. In lieu of flowers, donations may be made to the Hospice House of St Mary's, P.O. Box 625, Leonardtown, MD 20650 or the St. Mary's County Historical Society, 41680 Tudor Place, Leonardtown, MD 20650. Arrangements by the Brinsfield Funeral Home, P.A., Leonardtown, MD.