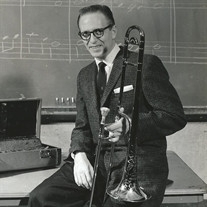 Charles H. Armstrong was born in Elizabeth City, NC on November 3, 1931. He passed away on Saturday, December 2, 2017 peacefully in his home. He is predeceased in death by his father, Willard Franklin Armstrong, his mother, Peggy Armstrong-Belanga and his step-father, Mike Belanga. He is survived by his loving wife Betty Helene Armstrong, his children Charles Raphael Armstrong, Carmel Ann Wood (Husband, Bill Wood), Betty Teresa (TC) O'Brien, (Husband, Steve O'Brien), grandchildren, Brittany Michele Wood, Kayla Marie Wood, Madelyn Elise Mazzeo and Great granddaughter, Mallory Ann Pyles, daughter of Brittany Marie Wood and Steve Daniel Pyles Jr. He also leaves his loving Sister-in-laws, Florine Joyner and Doretha Vaughan, friends, many nieces and nephews and musicians and students whose lives he touched deeply.

His love for music was evident at a young age and was proud to say he was a lead trombone player and drum major of the 100 piece marching band of Elizabeth City High School. Just out of high school he won 1st place with is trombone solo on the Horace Height Show. He received a Bachelors of Music Education from East Carolina University where he was also active in the dance band and marching band. At East Carolina he met the love of his life Betty Helene Armstrong. He served two years in the Army as 1st Trombone player in the 3rd Army Headquarters Band, the top band in Atlanta, Georgia and during this time was invited to tour with Hal McIntosh Band.

He went to graduate school at Notre Dame University and was proud to be a member of the "Fighting Irish" Concert Band and even played a "blues" solo he wrote himself at the halftime football show with the Notre Dame Marching Band. While at Notre Dame he was a trombone soloist and loved playing and supporting his family by teaching music, giving private lessons and playing in Jazz Nightclubs. He moved his family to Maryland in1964 and originally taught at 5 elementary schools and worked the summers for the "Head Start" program. Superintendent of Charles County Public Schools, Jessie Starkey, was so impressed with his musicianship, interaction with the students and his original song "Laughing Place" that he hired him as the first Music Supervisor in Charles County.

As Music Supervisor he was instrumental in starting the Tri-County Honor Band program to bring more opportunity to the instrumental students of Southern Maryland. Missing what he loved most, teaching and students, he went back to the classroom and started teaching again. He had many highlights in his teaching career but he was proud to say that under his direction the Matthew Henson Middle school band was the first to get straight ones at the State Band Festival on grade level 3 music and the Lackey High School band was the 1st Grade 6 band in Charles County to get straight ones at State. Several years after he retired from teaching he brought his new dream to life by creating the Southern Maryland Concert Band. He leaves not only this legacy behind, now 30 years strong, but the legacy of all the students' lives he touched along the way.

A visitation will be held on Wednesday, December 6, 2017 from 6 PM to 8 PM at Raymond Funeral Service, P.A. 5635 Washington Avenue La Plata, MD 20646 where a funeral service will be held on Thursday, December 7 at 9:30 AM. Internment to follow at Trinity Memorial Gardens in Waldorf. Memorial donations in his memory can be made to the Southern Maryland Concert Band, P. O. Box 2595 Waldorf, MD 20604. Electronic patrons http://www.somdconcertband.org. Arrangements by Raymond Funeral Service.