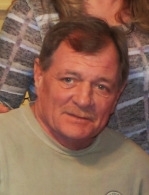 James Allen Spalding, "Jimbo", 55, passed away on Saturday, April 15, 2017 at his home which he built in Hollywood, MD. Born on December 24, 1961 he is the son of Shirley J. Spalding and the late Joseph O. (Sonny) Spalding. He graduated from Leonardtown High School, first graduating class of 1980.

Jimbo was the Owner/Operator of J.A. Spalding Trucking in Hollywood, MD. He was an active member of the Patuxent MD Moose Lodge 2393. Jimbo was an avid waterfowl hunter and loved taking trips in the coldest weather, coming home with the maximum limit allowed. He loved camping, crabbing, plowing snow, NASCAR and hanging out with great friends. He took great pride in everything he did which proved itself in his business and in his lawn. Jimbo was a fun-loving, hardworking man, He will be greatly missed by all who knew and loved him.

He leaves behind his loving and caring wife, Joyce (Anderson) Spalding, they would have celebrated 30 years of marriage on June 27, 2017, two wonderful sons; Brent, who followed in his Daddy's steps for trucking and Shane, who is an electrician with the Architect of the Capitol in Washington, DC. He found great comfort with his furry friends Snoopy, Sadie, Molly and Brandi. He leaves behind his siblings: Shelby Wathen, Jackie Gatton, Donna Lacey and Dennis (Stump) Spalding, along with a special Uncle, George Spalding, a host of in laws, nieces, and nephews.

The family will receive friends on Thursday, April 20, 2017 from 5:00 PM to 8:00 PM with prayers recited at 7:00 PM in the Mattingley-Gardiner Funeral Home, Leonardtown, MD. A Mass of Christian Burial will be celebrated on Friday, April 21, 2017 at 10:00 AM in St. John's Catholic Church Hollywood, MD with Father Anthony Lickteig officiating. Interment will follow in Charles Memorial Gardens Leonardtown, MD. Pallbearers will be: Brent Spalding, Shane Spalding, Dennis (Stump) Spalding, Stephen Spalding, Duane Carroll, and Jeff Spalding. Arrangements by Mattingley-Gardiner Funeral Home.