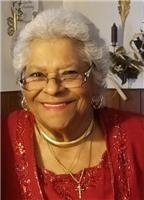 Elsie Catherine ""Lucy"" Carter Lawrence, 79, of Callaway, MD, went home to be with the Lord on March 10, 2019. She was born on January 5, 1940 in Bushwood, MD to the late Mary Catherine Thomas Carter and Joseph Ignatius Carter. She attended Fenwick Elementary School in Bushwood, MD then Banneker High School in Loveville, MD.

Elsie was an awesome, faithful wife, mother and grandmother. She was family-oriented, kindhearted, smart, and very, very generous. She enjoyed shopping (especially for clothing and jewelry) and was known for her diva-like attire. She had several hobbies: spending time with her family (especially her granddaughter, Shawna), traveling, collecting family photos, (family members would contact her to get copies of pictures), music and watching her favorite shows (Haves and Have Nots, Touched by an Angel and Walker, Texas Ranger).

She retired from Navair as a Program Analyst at the Patuxent River Naval Air Station in 2001, after 31 years of dedicated service. She was an honored member of the Naval Aviation Maintenance Office and received the Meritorious Civilian Service Award from the Department of Navy. During her time of service, she built many lifetime friendships.

She was committed to community work, including, but not limited to, being a St. Mary's County NAACP life member and treasurer for many years and an active member of the executive board. In December 2018, she received the St. Mary's County NAACP award for her dedication and commitment to civil rights and social justice.

She was preceded in death by her daughter, Cynthia; parents, Mary Catherine Thomas Carter and Joseph Ignatius Carter and brothers, Joseph F. ""Joe Buck"" Carter and Thomas X. Carter. She was also preceded in death by her best friend forever, Viola Britt and her sister/friend, Laurice White.

Elsie is survived by her husband, Nathaniel ""Nat"" Lawrence (whom she married on December 10, 1960); daughter, Catherine Lawrence Mason (William); son, Nathaniel ""Nate"" Lawrence; grandson, Talif and granddaughter, Shawna; sisters, Mary Virginia Brown, Ann Berry, Grace Carter-Tyer (Aloysius) and Joan Thomas; brothers, Ernest Carter (Martha), James Leroy Carter (Sylvia), Daniel Carter, Rowland Carter (Carolyn) and Joseph ""Bo"" Thomas. She is also survived by sister-in-law, Shirley Scriber and sister/friend, Martha Young (Howard) and a host of nieces and nephews.

Family and friends will unite on Wednesday, March 20, 2019 for visitation at 9 am until Mass of Christian Burial at 10 am at Holy Face Catholic Church, 20408 Point Lookout Road, Great Mills, MD. Interment to follow at Bethesda United Methodist Church Cemetery, Valley Lee, MD. Arrangements by Brisoce-Tonic Funeral Home.