1999 Patuxent River NAS Air Show
[ Previous Page ] [ Index ] [ Next Page ]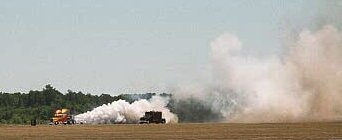 One of the favorite acts at the air show never left the ground. The Shock Wave Jet Truck sports 3 jet engines and requires two parachutes to stop.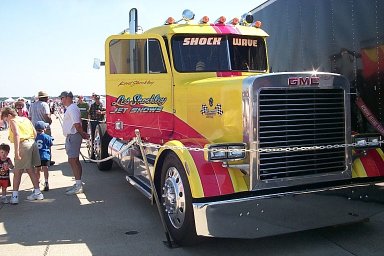 Although not evident from these photographs, the cab was equipped with a full roll cage and dual bucket seats. Each seat had a full harness. We were told that the NAS Commanding Officer had the honor of riding shotgun.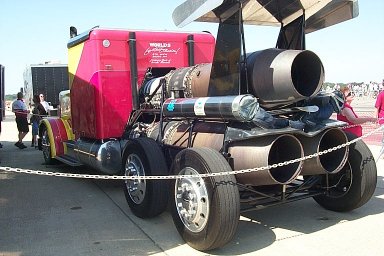 The three jet engines in full view. The smaller cylinders located on either side house the parachutes.
[ Previous Page ] [ Index ] [ Next Page ]
| Home | Help | Contact Us | About somd.com | Privacy | Advertising | Sponsors | Newsletter |
| What's New | What's Cool | Top Rated | Add A Link | Mod a Link |
| Announcements | Bookstore | Cafe | Calendar | Classifieds | Community |
| Culture | Dating | Dining | Education | Employment | Entertainment | Forums |
| Free E-Mail | Games | Gear! | Government | Guestbook | Health | Marketplace | News |
| Organizations | Photos | Real Estate | Relocation | Sports | Travel | Weather | Wiki | Worship |
Use of any somd.com Web site constitutes acceptance of our Terms of Use, Privacy Policy, and DMCA Notice.
Brought to you by Virtually Everything, Inc. ©1996-2016 (RS12), All rights reserved.