Master musicians take jazz in a new direction Dec. 8
Master avant garde drummer Paul F. Murphy and renowned bebop pianist Larry Willis will perform a totally improvised concert, "Performing Spirit, Jazz, and Democracy," on Friday, Dec. 8, at St. Mary's College of Maryland. The concert is free of charge and open to the public. It begins at 7:15 p.m. in the Auerbach Auditorium of St. Mary's Hall.
Oxford University Press' Grove Dictionary of American Music has called Murphy and Willis' spontaneous compositions "a new direction in the jazz and art arena." Bebop and avant garde artists rarely mix. In jazz, as in politics, there are conservatives and progressives. Murphy and Willis believe that artists must preserve and innovate in balance. According to Murphy, "Art is innovation. Innovation is fueled by free thinking. Free thinking and engaging others' free thinking, with tolerance and peace, is true freedom."
The concert is the culminating event of the Spirit of Jazz & Democracy concert, workshop, and master class series held at St. Mary's College this fall. Poet Jere Carroll, drummer Dominic Fragman, and philosopher Sybol Anderson, will join Murphy and Willis onstage for guest performances and discussion. Also featured are reflections on jazz and democracy by series workshop participants.
Paul Murphy began playing drums at age six. Inspired after meeting Gene Krupa, at age nine he began an 11-year tutelage with Joseph Leavitt, principal percussionist for the National Symphony Orchestra and director of percussion at Peabody Conservatory. He also studied with Louie Bellson.
By age 16, Murphy had attended Duke Ellington rehearsals in Washington, D.C., and was performing regularly around town with Ellington's bassist, Billy Taylor. In the early 1970's, he established himself as a bandleader in San Francisco and met avant garde pianist Cecil Taylor and saxophonist Jimmy Lyons at Keystone Korner. They invited him to New York where he helped Rashied Ali (John Coltrane's drummer) manage Ali's Alley in SoHo. Eventually, he joined Jimmy Lyons' band. Lyons dubbed Murphy a master. In 1981, the audiophile digital recording company Soundstream recorded Murphy and Lyons as reference points for how drums and saxophone should sound.
Bebop veteran and three-time Grammy nominee Larry Willis made his first splash at 19 with saxophonist Jackie McLean. He has since played and recorded with a list of jazz royalty including Dizzy Gillespie, Kai Winding, Art Blakey, Stan Getz, Lee Morgan, Cannonball and Nat Adderley, Woody Shaw, Carmen McRae, Roy Hargrove, Wynton Marsalis, and Hugh Masekela. Having played on over 300 records, including 25 as a leader, Willis is widely regarded as one of the finest jazz pianists alive.
Willis' virtuosity extends into rock and classical music. He spent seven years as keyboardist with Blood, Sweat, and Tears, and he's composed for the Brooklyn Symphony Orchestra and Florida Southern College Symphony Orchestra.
"Increasing division in politics challenges our democracy," Willis said. "All Paul and I really want to do is to be a part of that feeling in philosophy that talks about peace on earth and good will towards men. I think it is a very noble and simple way to live. I can only explain it up to a certain point. The rest of it you'll have to experience."
The Spirit of Jazz & Democracy is a program of interactive lectures, performances, workshops, and master classes that derive key lessons from jazz music about promoting freedom and inclusive democracy. Jazz is the true American art form and the music of freedom in performance as well as concept. The Spirit of Jazz & Democracy engages audiences in intentional listening and expression in the context of performances and discussions of jazz and democracy. At the center of the program are fully improvised concerts by Paul Murphy, Larry Willis, Jere Carroll, and Dominic Fragman. Learn more at
www.SpiritJazzDemocracy.com
.
This project was made possible by a grant from Maryland Humanities, through support from the National Endowment for the Humanities. Any views, findings, conclusions, or recommendations expressed in this program do not necessarily represent those of the National Endowment for the Humanities or Maryland Humanities.
BB&T sponsors Bookbag to Briefcase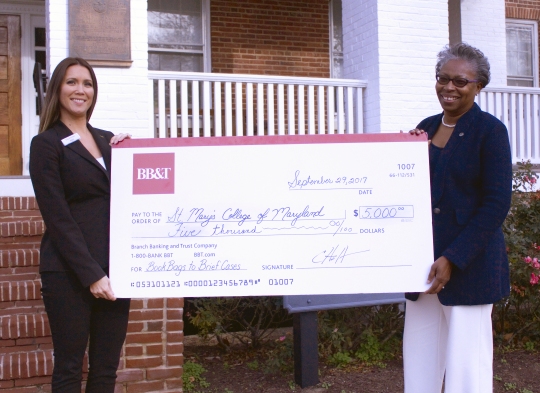 Tuajuanda C. Jordan, president of St. Mary's College of Maryland (right), was pleased to accept a check recently for the Bookbag to Briefcase program from BB&T, the program's title sponsor.The check was presented by Elizabeth Snyder, vice president at BB&T, St. Mary's County region.
St. Mary's College of Maryland recognizes BB&T and Regional President Chris Holt '86 for supporting the College's Bookbag to Briefcase program as the title sponsor for the 2017-18 academic year.
The Bookbag to Briefcase program, formed several years ago, is designed to connect St. Mary's College students with industry experts in small group settings.
"This program has a lasting impact on our students as they develop into professionals," said Kate Shirey, director of career development at St. Mary's College. "We thank BB&T for supporting the Bookbag to Briefcase program, making it possible to provide students with access to financial literacy education, online learning opportunities through the BB&T Financial Foundations platform, and professional networking sessions."
Bookbag to Briefcase was re-imagined this year, moving away from a three-day conference format to a year-long program that provides TED Talk-style workshops, alumni panel discussions, and networking opportunities that are open to all students. The program also provides professional development discussions on topics including financial literacy, personal budgeting and establishing credit, understanding insurance policy language, and steps to job success.
Holt explained at a recent financial literacy workshop at the College that part of BB&T's corporate philosophy is to support its community by providing financial literacy education. "At the end of the day, a business is a reflection of its community's strength. So we believe it's our responsibility to invest in that strength," he said.
BB&T is one of the largest financial services holding companies in the U.S. with $220.3 billion in assets and market capitalization of $37.0 billion as of Sept. 30, 2017. Building on a long tradition of excellence in community banking, BB&T offers a wide range of financial services including retail and commercial banking, investments, insurance, wealth management, asset management, mortgage, corporate banking, capital markets and specialized lending. Based in Winston-Salem, N.C., BB&T operates over 2,100 financial centers in 15 states and Washington, D.C. A Fortune 500 company, BB&T is consistently recognized for outstanding client service by Greenwich Associates for small business and middle market banking. More information about BB&T and its full line of products and services is available at BBT.com.
14th Annual So. Md. Martin Luther King, Jr. Prayer Breakfast Jan. 15
Celebrate the legacy of Dr. Martin Luther King, Jr. during the 14th Annual Southern Maryland Martin Luther King, Jr. Prayer Breakfast on Monday, Jan. 15, at St. Mary's College of Maryland. The breakfast will begin at 6:30 a.m. and costs $10 payable at the door. The program will begin at 8 a.m. at no cost, featuring a keynote address by Nandi Crosby-Jordan '91. Following the program, beginning at 10 a.m. the Alpha Kappa Alpha Sorority, Inc., Nu Zeta Omega Chapter will host a Day of Service, providing services and activities for students of all ages and adults. The breakfast and program will be held in the J. Frank Raley Great Room, Campus Center (18952 E. Fisher Road). The Day of Service will be held within Cole Cinema, Campus Center. For more information, contact events@smcm.edu or call (240) 895-4310.
A proud Baltimore native, Nandi Crosby-Jordan joined the faculty of California State University, Chico, in the fall of 1999. She earned a B.A. majoring in psychology from St. Mary's College of Maryland (1991); an M.A. in Africana Women's Studies from Clark Atlanta University (1995); and a Ph.D. in sociology from Georgia State University (1999). She is currently the chair of the sociology department and holds a joint appointment in sociology and multicultural & gender studies. Her specific interests are all things related to social inequality: poverty, gangs, police brutality, feminism, racism and sexism, gender politics, the prison industrial complex, and a host of other social justice issues. In 2016, Dr. Crosby-Jordan earned the Chico State's prestigious "Outstanding Teacher" award.
Immediately following the breakfast, the Day of Service will continue with a panel discussion titled "The Color of Unity: Boldly Building Bridges Across Communities," led by community members discussing the state of affairs in areas ranging from education and politics to religion and health. The Day of Service will also include blood pressure screening, a non-perishable food drive for Puerto Rico and the U.S. Virgin Islands, a coat drive and a backpack giveaway for elementary and middle school students, and voter registration.
The Annual Southern Maryland Martin Luther King, Jr., Prayer Breakfast draws community-wide attendance, including local government officials, religious leaders, and business persons. The event is sponsored by St. Mary's College of Maryland, St. Mary's County Human Relations Commission, St. Mary's County Public Schools, the College of Southern Maryland, and Alpha Kappa Alpha Sorority, Inc., Nu Zeta Omega Chapter.
Military Appreciation Night
St. Mary's College of Maryland presents Military Appreciation Night on Wednesday, Jan. 3, 2018, as the St. Mary's College Men's and Women's Seahawks take on the Southern Virginia University Knights. Get ready for a basketball doubleheader starting at 6 p.m. when the women's teams take to the court, followed by the men's at 8 p.m. All active and retired military and/or their families with identification will have free access to the games. Military personnel-only raffle events will also take place. Both games occur in the Michael P. O'Brien Athletics and Recreation Center, 19050 Hill Commons Drive on the St. Mary's College campus. For additional tickets purchased at the door, prices are $5 for adults, and $3 for senior citizens and non-St. Mary's College students.