CSM Nursing Students Inducted into Honor Society
The College of Southern Maryland inducted 15 students into its associate nursing degree honor society at a ceremony at CSM's La Plata Campus. Calling them "15 of our finest students," Clinical Simulation Coordinator Linda Goodman served as the mistress of ceremonies as each of the second-year students was called forward to receive a pin and an honor cord that they will also wear when they graduate this spring.
Amanda Mason of Lexington Park, one of the inductees and incoming president of Alpha Omega, which is CSM's chapter of the Organization for Associate Degree Nursing (OADN) Alpha Delta Nu Honor Society, spoke at the event about the history of CSM's chapter.
Mason described the service project the 15 inductees designed and carried out as part of their activities leading up to the induction. For the project, the students put together a comprehensive presentation on CSM's nursing program, which they gave to hundreds of biomedical students at both La Plata and Thomas Stone high schools.
"We broke down the process for them, from start to finish, from applying to the college all the way to sitting for the NCLEX," Mason said in her speech, referring to the nurse's licensing exam. "We demonstrated a nasogastric tube insertion and discussed the reasons why a patient might require one." At the end of the presentation, the nursing students answered questions from the high school audience.
"Our hearts were in it, and it showed," Mason said of the project.
The path to induction in the honor society involves nursing students becoming provisional members at the beginning of their third semester of study. They must maintain a cumulative 3.0 grade point average, earn a "B" or higher in all courses required for the nursing program with no previous nursing course failures, and reflect sound moral and ethical values with professionalism and integrity of the highest caliber.
The newest members of CSM's Alpha Omega Chapter of the OADN Alpha Delta Nu Honor Society in addition to Mason are Megan Attick, Maria Davenport, Michaela Friason, Hannah Heathman, Rachel Kagle, Naomi Logue, Ashleigh Maloney, Holly Miller, Rebecca Mueller, Erin Park, Eileen Parry, Dylan Pauley, Sana Qureshi and Dana Stewart.
CSM faculty advisers for the Alpha Omega Chapter of Alpha Delta Nu are Nursing Professors Janice Bonham, Lynn Kennedy and Dr. Karen Russell.
The honor society was established to promote scholarship and academic excellence in the profession of nursing. "The objective of the OADN Alpha Delta Nu Nursing Honor Society shall be to recognize the academic excellence of students in the study of Associate Degree Nursing," according to the honor society's website. "The society shall encourage the pursuit of advance degrees in the profession of nursing as well as continuing education as a life-long professional responsibility. Additionally, the society shall participate in the recruitment of qualified individuals into the profession of nursing."
For more information on CSM's nursing program, visit
www.csmd.edu/nursing
. To view photos from the event, visit
csmphoto.zenfolio.com/17jannurinduction
.
Bay Business Group Awards New Scholarship
Group Teamed with CSM Foundation
From left, Bay Business Group Vice President Diane Burr and member Brian McDaniel stand with CSM students Josh Griffith and Cayla Chase, next to Bay Business Group Secretary Karen Kroll after Griffith and Chase are announced as the first recipients of the newly established Bay Business Group Annual Scholarship.
Two students at the College of Southern Maryland (CSM) have been named the first awardees of a new scholarship established by Bay Business Group and the CSM Foundation—Josh Griffith of Owings and Cayla Chase of Lusby. Both students are majoring in business administration at CSM.
Griffith and Chase attended a recent meeting of the Bay Business Group, where the two scholarship recipients spoke briefly about their business ideas. "Both Josh and Cayla were a delight to meet and listen to their entrepreneurial plans," said BBG Secretary Karen Croll. "We intend to offer each of them a free, one-year membership to the Bay Business Group in support of their marketing and networking efforts for their businesses."
"The BBG's focus is to create great business leaders and owners through education, experiences and opportunities," said BBG President Cindy Bliss. "The scholarship fund was established to financially support students pursuing a business degree and to raise awareness of what the BBG can do for others. We believe that by helping others succeed in business, families, schools and communities are also positively impacted." The Bay Business Group is an organization of more than 100 advocates for economic growth and prosperity.
The Bay Business Group Annual Scholarship is designed to provide an annual $1,000 scholarship to two Calvert County residents attending the College of Southern Maryland. Among other requirements, the recipient must have graduated from one of the four public high schools in Calvert County, be a current Calvert County resident, be a full-time student majoring in business administration at CSM, maintain a 2.5 cumulative grade point average or better and demonstrate financial need.
For information on donating to a CSM scholarship or creating your own scholarship at CSM, visit
foundation.csmd.edu/
.
CSM Celebrates Work of Administrative Professionals
Event Designed to Foster Skills, Offer Networking Opportunities, April 28
The Corporate Center at the College of Southern Maryland (CSM) will host Administrative Professionals Development Day to celebrate local administrative professionals 8:15 a.m. to 3:30 p.m., April 28 at the Leonardtown Campus.
"Administrative professionals' contributions are essential to the success of every organization," said Debbie Friedrich, business developer with the Corporate Center. "This is a day of relaxation, learning and fun and a way to pay tribute to the hard work of these professionals and their service in our business community."
Administrative Professionals Week began in 1952 as a way to honor administrative staff for their efforts in order to attract more people to office and administrative careers. Now, the week-long celebration, observed the last full week of April, is one of the largest in the nation.
CSM invites administrative professionals to a day of food, fun, networking and learning opportunities in a relaxed, stress-free environment. Participants will develop new strategies, skills and solutions they can immediately apply to the workplace. All area administrative professionals, including business and office managers, executive and administrative assistants, human resource administrators, customer service representatives, office assistants and clerks, are encouraged to attend.
The event kicks off with a continental breakfast at 8:15 a.m., followed by a keynote address by Jennifer Anderson, an accomplished trainer, teacher, coach and business builder. Four sessions will follow, covering topics such as change management, social media strategies, cyber-safety and health and stress relief. A lunch will be served from noon to 1 p.m. with plenty of networking opportunities.
The event is $125 per participant. For groups of five or more, the cost is $99 per person. For information or to register, visit
www.csmd.edu/AdminProfessionalsDevDay
. For groups of five or more, contact Friedrich at 301-934-7548.
New CSM Summer Scholars Program Offers College Study to High School Juniors/Seniors
Students Can Select from Three Academies, Earn College Credit
The College of Southern Maryland (CSM) invites rising juniors and seniors in area high schools to get a taste of college this summer. The new CSM Summer Scholars Program allows forward-thinking high school students to earn college credit while taking an in-depth look at an area of interest. Academies in robotics, cybersecurity and American music are offered.
"The Summer Scholars Program is intended for the high-achieving high school student who is looking for a challenging and fun environment over the summer," said Brian Hammond, CSM director of admissions. "CSM recognized that this area has a large number of rising high school juniors and seniors who want to get a jumpstart on college by earning three college credits. We are offering three different academies with the college-bound student in mind."
The Summer Scholars Program will be held from July 10-27, with classes meeting every Monday through Thursday and special activities, field trips and/or guest speakers each Friday. "The program blends small, interactive, on-campus classes with extended learning activities designed to prepare the student for college success," Hammond said. "There will be seminars, workshops and social activities where students can meet and study with other talented high school students from around the region. It is a great way to experience college life even before leaving high school."
The program is a wise investment for future college students. For three engaging weeks, the students earn three college credits taught by division faculty in their area of interest.
In the Robotics Academy, students will learn the basic principles of robotics. A hands-on approach is used to introduce basic concepts, focusing on the construction and programming of remotely controlled and autonomous robots. Students will build and test increasingly complex robots, culminating in an end-of-semester robot project.
Classes in the Cybersecurity Academy will cover the fundamentals of operational security, network security, managing a public key infrastructure (PKI), authentication, access control, external attack and cryptography. Students learn about the security procedures to protect data in computer environments, the different network attack scenarios, the many tools and procedures used by organizations to protect their resources and the ethical issues raised by computer security in the business world.
Students in the American Music Academy will consider what makes American music sound American. They will study musical elements (tone quality, harmony, rhythm, melody and improvisation), historical content, psycho-social factors, political forces, spiritual uses and economic dimensions.
In addition to academy classes, Summer Scholars students will also participate in college readiness workshops, attend a full-day field trip related to their academy, enjoy access to the CSM fitness center and pool and interact with other talented high school students from the area.
"The CSM Summer Scholars Program offers Southern Maryland high school students the opportunity to earn college credits, while engaging in extended learning and campus life activities preparing them for college success," said Nancy Ingwalson, CSM student engagement coordinator.
To apply for the CSM Summer Scholars Program, students must complete and submit the online application and provide their high school transcript and a letter of recommendation from a high school teacher. An academic average of 3.0 or better is required. Admission is competitive and contingent upon space availability.
Applications are now being accepted. The deadline to apply is June 2.
Cost for the CSM Summer Scholars Program is between $399 and $460, depending on which academy is selected. Public high school students may be eligible for a Dual Enrollment Pell Grant. For more information regarding this option, contact CSM's Financial Assistance Department at finaid@csmd.edu.
For more information and an application, see
csmd.edu/summerscholars
.
CSM Signs Agreement with AFROTC Program
Students Will Now be Able to Participate in UMD Training
TransFair3116.jpg: 2nd Lt. Cameron Hefner, left, discusses Air Force ROTC opportunities with CSM student Megan Attick of Huntingtown at a CSM Transfer Fair held Feb. 23 at the La Plata Campus.
College of Southern Maryland students who are interested in becoming an officer in the United States Air Force can now sign up for the Air Force Reserve Officer Training Corps (AFROTC) through the University of Maryland, College Park. An agreement was finalized in February that allows CSM students to continue their studies at CSM while participating in AFROTC training at the University of Maryland campus.
Participating students would travel to College Park once a week to participate in physical training and leadership lab and take classes on leadership, security issues and the structure of the Air Force, according to 2nd Lt. Cameron Hefner. Hefner manned an information table about the new program at a Transfer Fair held Feb. 23 at CSM's La Plata Campus.
The college's new arrangement establishes CSM as a crosstown school—a college or university that offers AFROTC, but whose students take the AFROTC classes each week at the nearest host university. CSM students who sign up for the program can then continue with AFROTC if they transfer to a four-year college or university that has a AFROTC program or that is also designated as a crosstown school by AFROTC. "By participating in this program, students can take courses toward being an officer at College Park," said James Spence Jr., senior coordinator of transfer services and articulations at CSM. "This will eliminate them having to go to Officer School after graduation. These same courses can be transferred back to CSM so that the student can apply them wherever applicable."
Students in any discipline can participate. Students who sign up would be expected to show up to all mandatory AFROTC events as well as maintain all academic and military standards of the program.
"If you want to be an Air Force officer, this is what the program does," Hefner said, listing the benefits of a military career. "You can see the world. Competitive pay. Regular promotion opportunities. Opportunities to gain higher education."
Hefner noted that there are AFROTC scholarships that can assist students with the cost of their undergraduate degree. "Some are available. But it's competitive," he said. Most AFROTC students are not on scholarship. Students who are participating in the program do not have to make a commitment to the Air Force until the beginning of their junior year or if they are receiving a scholarship.
"The only financial obligation that students have is the registration fee when they register for the program," Spence said. "The AFROTC program does not charge for tuition or uniforms. Students in the program will be dual enrolled and will have access to all of the amenities of a College Park student. There is very limited scholarships available through this program. Students will have to compete for them."
The agreement with the Air Force ROTC program is just the first step for CSM toward partnering with ROTC training. "We are planning to include the other armed force branches in the future," Spence said.
To apply for AFROTC, there is an application process that is run by the officers and non-commissioned officers of the detachment. Interested students can visit
www.afrotc.umd.edu
to fill out an interest form and start the process.
For information on CSM, visit
www.csmd.edu
.
Four CSM Students Honored for Public Service Announcements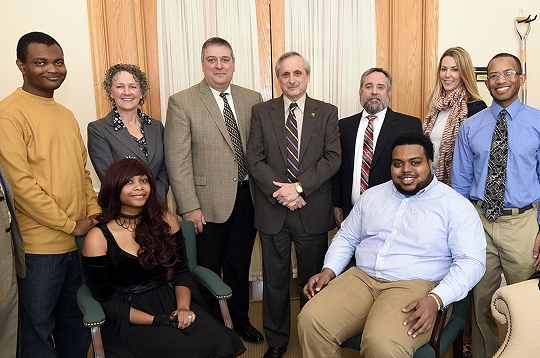 CSM digital production students, seated, from left, Destiny Posso of Waldorf and Charles Thompson of Bryans Road and, standing far left, Tionte Smiley of Brandywine and, far right, Alfonzo Thomas of Prince Frederick were awarded for their efforts in producing public service announcements on theft prevention. Participating in the ceremony were, second from left in back, CSM Vice President of Academic Affairs Dr. Eileen Abel, Executive Director of the Maryland Vehicle Theft Prevention Council Chris McDonald, CSM President Dr. Bradley Gottfried, Maryland/DC Anti-Car Theft Committee President Paul Holland and Maryland State Police Deputy Director of Media Communications Elena Wendell-Russo.
Four College of Southern Maryland (CSM) students were honored for public service announcements they produced last semester as part of their digital media production class. Students from both CSM and Towson University were invited to create and submit 30-second PSAs that warn state residents about the danger of items being stolen from cars in Maryland.
The team of CSM students Charles Thompson of Bryans Road and Alfonzo Thomas of Prince Frederick won the top prize for CSM submissions in the 2016 Vehicle Theft Prevention PSA Contest, which is presented annually by the Maryland State Police, Maryland Theft Prevention Council and Maryland/DC Anti-Car Theft Committee. Both Thompson and Thomas were awarded $250 each. CSM students Destiny Posso of Waldorf and Tionte Smiley of Brandywine were honored with a monetary award of $100 each for their submission in the CSM contest.
"We were excited to come and work with you," said Paul Holland, president of the Maryland/DC Anti-Car Theft Committee and part of the delegation that presented the awards in a ceremony at CSM President Dr. Bradley Gottfried's office at the La Plata Campus on March 8. The contest has been running for seven years, but this was the first year that CSM participated. Holland explained that asking college students to create the anti-theft message provides a younger point of view. "It is a way to brand our message a little different than we have in the past," Holland said. "We are interested in what will resonate with your peer group … It's making the public aware."
The CSM PSAs were created as part of Associate Professor Olaniyi Areke's digital production class. Areke, who is the digital media production coordinator, said it is important for the students to work on "real-world projects," and normally the PSAs would have been produced for a local nonprofit in his class. "This is a way to test your skills against other students," he said about the contest. "That way, they can see where they are compared to other students … It's a great opportunity."
Before the award ceremony, the students discussed their PSAs and the challenges they faced in creating a clear and compelling message in only 30 seconds. The team of Thomas and Thompson were challenged by unexpected vehicles interfering with their filming, they said. "Charles was the motivator. He was really animated about the project," Thomas said of Thompson. Thompson plans to continue his education at the University of North Carolina, Wilmington, and someday create a feature film. Thomas hopes to set up a private business as a videographer after earning his associate degree at CSM.
Posso and Smiley took three to four weeks to put their PSA together. The biggest challenge, they said, was just coming up with their idea. Producing that idea was "pretty fun, pretty interesting," Posso said. Smiley intends to pursue a bachelor's degree and then work as a cameraman or director. Posso will attend the University of Maine starting this fall and hopes to eventually work to educate and entertain young adults, creating an improvisation program for children.
The students thanked Areke and Patricia Christofaro, station manager and executive producer of CSM's television studio, for their teaching and "for getting us to this point in our career," Thompson said.
Thompson and Thomas' PSA can be viewed at
youtu.be/80jHcjlEnhw
. Posso's and Smiley's video is at
youtu.be/5Oa3HooDKVo
. Both videos will be shared via the Maryland State Police social media platforms.
For information on credit and degree programs at CSM, visit
www.csmd.edu/programs-courses/credit.