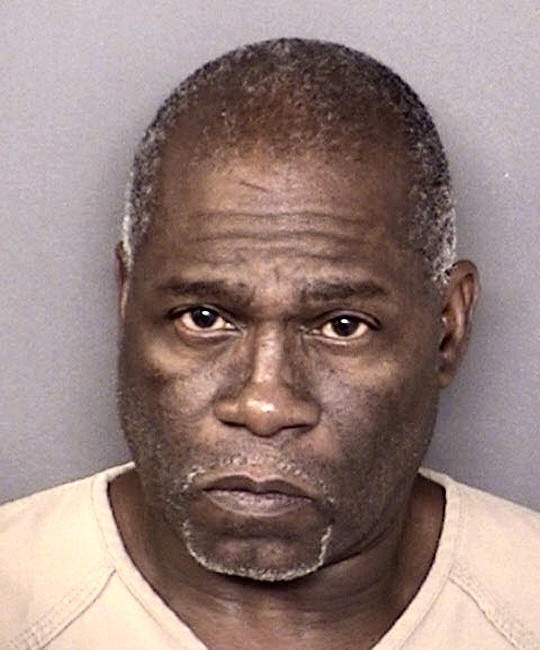 Michael Vincent Moore, age 55.
LEXINGTON PARK, Md.
(Oct. 13, 2016)—A lone gunman caused havoc this morning in the Lexington Park area. Police were called to Mayfaire Lane in Lexington Park for reports of shots fired around 7:40 a.m. A lone suspect is in police custody awaiting formal charges. Two minor injuries were reported; a detective was hurt while wrestling with the suspect and a passing motorist was hit by glass after the gunman shattered his windshield.
The preliminary investigation has revealed the suspect, Michael Vincent Moore, age 55, fired multiple rounds into an apartment door at the Park Villas Apartments (formally Mayfaire Apartments). One occupant was inside the apartment at the time the shots were fired but the victim was uninjured. Moore then fled the scene and fired rounds at a motor vehicle on Pegg Road. Moore returned to the apartment complex, where he was met by law enforcement officers and taken into custody at which time Moore assaulted Detective Michael Boyer who received minor injuries.
The driver of the motor vehicle was transported to MedStar St. Mary's Hospital for the treatment of injuries caused by the motor vehicle's window shattering—not gun shots.
After a review with the State's Attorney, Moore has been charged with Attempted First Degree Murder, Home Invasion, Three Counts of First Degree Assault, Reckless Endangerment, Two Counts of Use of Firearm in Violent Crime, Second Degree Assault on Law Enforcement Officer, Handgun on Person, Handgun in Vehicle and Reckless Endangerment from Car. Additional charges are pending.
Moore is currently incarcerated in the St. Mary's County Adult Detention Center being held on a no bond status.
The Maryland State Police and Patuxent River Police assisted the sheriff's office with the situation.
The Criminal Investigations Division is continuing the investigation.