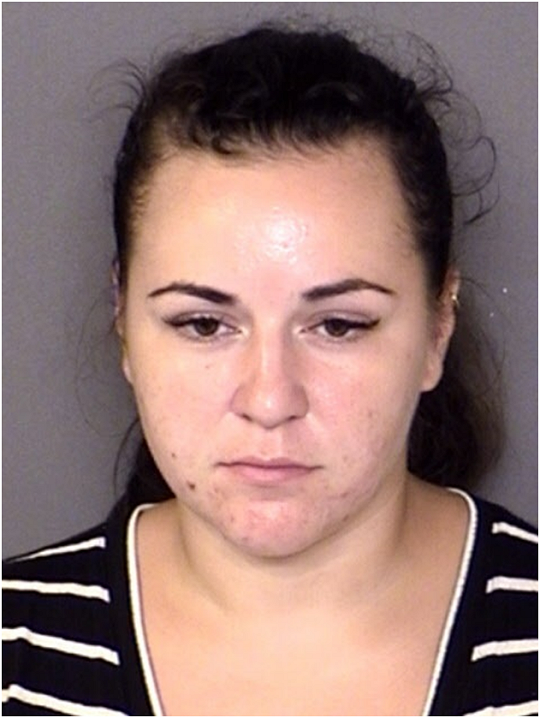 Brandi Sue Bolen, 25, of Leonardtown, Md. (Booking photo via MSP)
LEONARDTOWN, Md.
(Sept. 2, 2016)—A special unit of the State Police, acting on a tip, this afternoon located and arrested a fugitive wanted for an armed robbery committed back in May. Brandi Sue Bolen, 25, of Leonardtown, was found at a business in Hollywood shortly after noon.
Investigators from the Criminal Enforcement Division—Central South Region charged Bolen with armed robbery, assault in the first degree, possession of a handgun, possession of a regulated firearm, use a firearm in violation of a crime and being in possession of ammunition.
In May 2016, troopers from the Leonardtown Barrack and investigators from CED responded to a commercial business in the Loveville area of St. Mary's County for a reported armed robbery. Through an extensive investigation, CED investigators were able to identify Bolen as the person who committed the armed robbery. An arrest warrant was applied for an obtained. State Police remained on the lookout for Bolen and were continuing their search when information was obtained today about where she was.
Following service of the arrest warrant, Bolen was incarcerated at the St. Mary's County Detention Center pending a hearing with the District Court Commissioner. In addition to the armed robbery charges, Bolen had an open warrant through MSP-Leonardtown Barrack.
If Bolen is found guilty, she could receive up to 74 years of incarceration for the armed robbery.