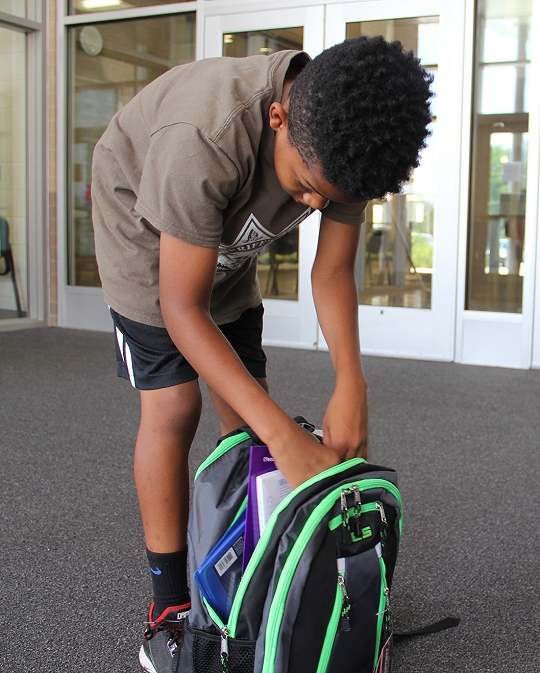 Isaiah Teasley, a sixth grader at Matthew Henson Middle School, looks through the new backpack he and other campers received at Youth Achievement Camp. The backpack was filled with school supplies.
LA PLATA, Md.
(July 29, 2016)—To cap off a successful month, campers in the Summer Youth Achievement Program are looking forward to going to Kings Dominion. But first, business. Backpacks filled with school supplies were handed out at camp Wednesday, ensuring that more than 65 middle schoolers were well equipped for the new school year.
Kids 10 to 14 are referred to the program by their guidance counselors and others, said Charles County Sheriff's Office Sgt. William Welch. The sheriff's office and Charles County Public Schools have held the camp for more than a decade. There are traditional camp activities and field trips with discussions held about leadership and how to interact with police officers. By the end of camp, each student is certified in cardiopulmonary resuscitation—CPR.
"It's not just sports," Elijah Pender, a John Hanson Middle School seventh grader said. "You get to learn stuff too. Actually, I learned a lot."
School resource officers run the camp and hope to connect with students.
"I really like how we stay active and not bored," said Regine Walker, a sixth grader at Mattawoman Middle School. "I've learned a lot of inspiring things that will help us be successful."