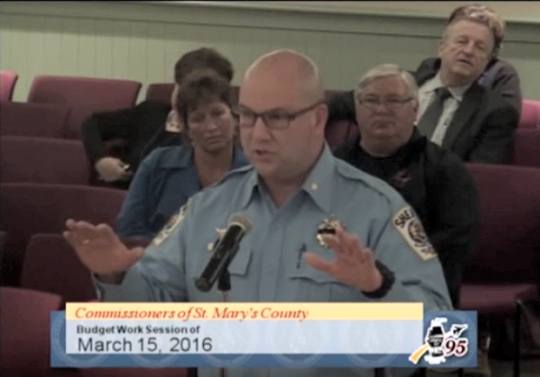 Assistant Sheriff Major John Horne addresses the county commissioners at the budget work session of March 15.
HOLLYWOOD, Md.
—Sheriff Timothy K. Cameron said last week that he has engaged the Montgomery County Sheriff's Office to investigate the actions of his top subordinate, Assistant Sheriff Major John Horne, after
Horne publicly chastised several county commissioners during a tense budget work session on March 15
.
Cameron said he chose to reach out to the Montgomery agency because it was the same kind of law enforcement entity but it was "not contiguous" with the borders of St. Mary's.
In other words it was far enough away to not have any entangling relationships with members of the local force that might be involved in the investigation.
"They are a very disciplined agency with a robust office of professional responsibility," Cameron told The County Times.
Horne, who has a long history of service with the agency, accused Commissioner John O'Connor in particular of trying to micromanage the agency through the budget process.
Horne called the efforts of O'Connor and that of Commissioner Mike Hewitt "ridiculous" and told O'Connor, a former law officer, that it was not his job to try to run the agency.
O'Connor shot back by claiming he had every right as a commissioner to examine the agency's budget for cost savings and even filed an official complaint against Horne for what he called his unprofessional behavior.
O'Connor's wife is a deputy sheriff.
Immediately following the work session of March 15, Cameron said he believed Horne was expressing frustration that many in the agency felt and that he, too, believed O'Connor was trying to control the agency.
In his formal complaint O'Connor had requested that the Maryland State Police head up the investigation into whether Horne violated any of the sheriff's office policies on conduct of its personnel.
For more local stories from Calvert and St. Mary's counties, visit the
County Times newspapers online
.