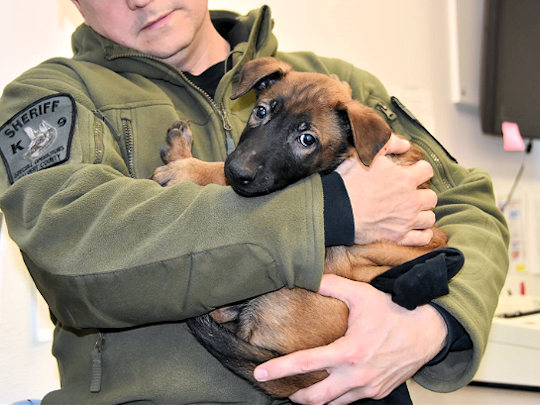 Arn is the first candidate in the Calvert Co. Sheriff's Office "Puppy Program."
PRINCE FREDERICK, Md.
(Feb. 9, 2016)—Police dogs are expensive. A 15-month-old dog with no training costs between $6,000 and $8,000. Police in Calvert Co. are looking at alternatives. In 2015, the Special Operations K-9 unit of the sheriff's office implemented the "Puppy Program." The pilot project will evaluate purchasing a puppy directly from a breeder at 8 weeks of age vs. buying adult dogs at the higher cost. A puppy costs $1,500.
Police say there are guarantees with an older dog; however, older dogs come with very little training. The pilot program will help determine questions such as will the quality of the working dogs be better if they were raised from a puppy and would the project create a significant cost savings for the agency.
The sheriff's office purchased its first puppy from Avisa K9 in Miami, Florida in late 2015. On January 27, a 9-week-old male Belgian Malinois puppy named Arn arrived in Prince Frederick. Arn will live with Sgt. Gregory for the next 15 months. Sgt. Gregory will continue to work with Arn every day until he is ready for service. Arn will go through a systematic routine that will enhance his bite, nose use, agility, confidence, socialization and learning.
At the conclusion of Arn's 15 months with Sgt. Gregory, he will be ready for his handler and a Police Service Dog Class. The agency plans to assign Arn to Dfc. Funchion and replace K-9 Jax as the S.O.T. SWAT dog in the fall of 2017.