Current Stories:
[ More Current News Stories... ]

News Archive: [ 2015 ] [ 2014 ] [ 2013 ] [ 2012 ] [ 2011 ] [ 2010 ] [ 2009 ] [ 2008 ] [ 2007 ] [ 2006 ] [ 2005 ] [ VFD News ]

Other News Sections:

Announcements:
Forums:


Posted on November 01, 2010
By somd.com Staff Writers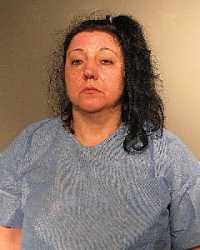 Joanna Joyce Findlay, 40, of Hollywood, has been charged with second degree murder in the shooting death of Gary Allen Trogdon. (Arrest photo)

LEONARDTOWN, Md. (November 1, 2010)—Police found Gary Alan Trogdon, 55, deceased inside a residence on Little Cliffs Road in Hollywood Saturday around 11:00 p.m. They were called to the home for a report of a domestic assault in progress with shots fired. Deputies determined Trogdon received a fatal gunshot wound during a dispute.

Deputies detained a female, 40, of Hollywood, who was at the residence when they arrived. Her name was not released at that time since charges had not been filed.

Detectives from the St. Mary's County Bureau of Criminal Investigations were called to the scene and assumed the investigation.

On Sunday, detectives charged the woman, Joanna Joyce Findlay, with second degree murder in the death of Trogdon. Findlay is being held in the St. Mary's County Detention Center without bond.
Headline News Main Page
Discuss This Article in the Forums (or comment below)

Reader Comments Appear Below the Advertisement
FEATURED SPONSOR
Annmarie Garden
Annmarie Garden Sculpture Park & Art Center, open daily from 9am-5pm, includes a thirty-acre outdoor sculpture park and an Arts ...