Current Stories:
[ More Current News Stories... ]

News Archive: [ 2015 ] [ 2014 ] [ 2013 ] [ 2012 ] [ 2011 ] [ 2010 ] [ 2009 ] [ 2008 ] [ 2007 ] [ 2006 ] [ 2005 ] [ VFD News ]

Other News Sections:

Announcements:
Forums: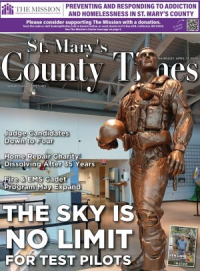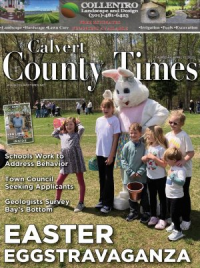 Posted on August 24, 2009
CSM Professor Gives Perspective on Early Settlers along with Health Tips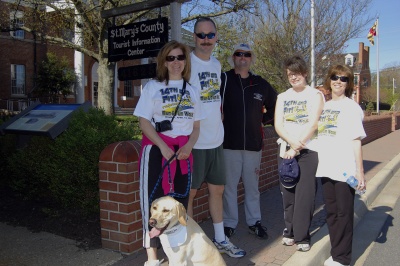 The Leonardtown historical walking tour combines fitness tips from CSM Leonardtown Campus Fitness Coordinator Judith Ferrara and a local history lesson from CSM History Professor Chretien Guidry, who brought a few friends along to sample the walk earlier this spring. From left are Ferrara with "Max," CSM Public Safety Coordinator James Yates, Guidry, CSM Adjunct History Professor Katherine Humphries and Maryland Center for Environmental Training Program Coordinator Terri Jones. (Submitted photo)

LEONARDTOWN, Md. (Aug. 24, 2009) -- Residents and visitors of Leonardtown can take a leisurely stroll through town with a College of Southern Maryland history professor--in their pocket.

Now on podcast, CSM Professor of History Chretien Guidry's talk on the historical landmarks of downtown Leonardtown is available for download through CSM's website. The podcast, created for Leonardtown's "Celebrate Family, Fun and Fitness Day" as part of Maryland's year-long 375th Anniversary Celebration, is intertwined with history and health tips for listeners to enjoy as they walk between historical buildings.

Beginning at the Leonardtown Campus, the podcast starts off with fitness tips provided by CSM Leonardtown Campus Fitness Coordinator Judith Ferrara to get the walker warmed up. The self-guided tour then leads walkers on a loop through Leonardtown beginning with Tudor Hall where relatives of Francis Scott Key once lived. Visitors will stroll past 20 additional sites of historical significance before arriving at St. Peter's Chapel, a Gothic style church established in 1860 and the final site on the tour.

After learning about the Leonardtown's history which dates to 1654, residents and visitors are invited to stop by CSM's Leonardtown Campus where they can see the architectural plans for the 21st century Wellness and Aquatics Center currently under construction. The 32,000-square-foot center with two swimming pools will open in fall 2010 with opportunities for classes in Tai Chi, yoga and kickboxing, spinning, circuit training, water aerobics and personal training.

For information on the Wellness and Aquatics Center or to download the podcast, click on "Walking Tour Audio" under Featured Links at http://www.csmd.edu/About/campuses/leonardtown/building/WellnessCenter.html.

To obtain a map of the Leonardtown walking tour, visit Leonardtown Town Hall at 41660 Courthouse Drive or http://leonardtown.somd.com/history/.
Headline News Main Page
Discuss This Article in the Forums (or comment below)

Reader Comments Appear Below the Advertisement