Current Stories:
[ More Current News Stories... ]

News Archive: [ 2015 ] [ 2014 ] [ 2013 ] [ 2012 ] [ 2011 ] [ 2010 ] [ 2009 ] [ 2008 ] [ 2007 ] [ 2006 ] [ 2005 ] [ VFD News ]

Other News Sections:

Announcements:
Forums: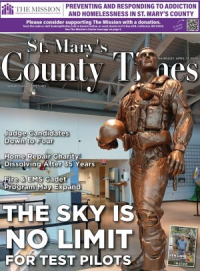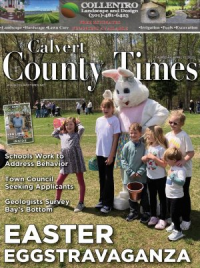 Posted on November 16, 2007
By Guy Leonard, County Times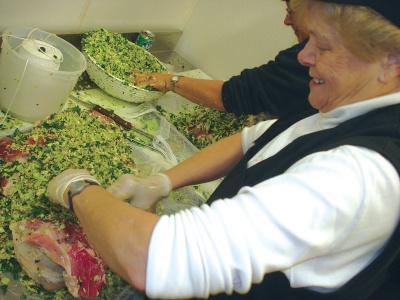 Aggie Tinsley, of McKay's Fine Food and Pharmacy stuffs one of a planned 400 stuffed hams to be available in McKay's food stores for Thanksgiving. (Photo by Guy Leonard, County Times)

HOLLYWOOD, Md. (November 15, 2007) -- As Thanksgiving fast approaches, and people whet their appetites for a traditional turkey feast, an old favorite is rapidly becoming more popular as holiday fare.

Southern Maryland stuffed ham, also known as St. Mary's County stuffed ham, has been a traditional local favorite dating back centuries in the region and independent grocers say that more and more people not originally from here are coming to love the dish.

"We have customers, some of them military, who said 'Someone told me about stuffed ham. What is it?'" said Mary White, store manager for McKay's Fine Food and Pharmacy in Great Mills. "They try it and they love it. They come back all the time."

The main ingredients of the dish include a corned ham, one that has been soaked or injected with brine, removed from its bone and stuffed with a mixture of cabbage, kale and spices that include a variety of peppers.

McKay's grocery stores prepared 400 individual hams for sale during the Thanksgiving holiday, showing just how popular the dish has become.

"Every day we're getting calls to see if we're still doing stuffed ham," White told The County Times, adding that many calls are from outside the county or even the region. "You give them a sample and you get them hooked; they've got to have it."

Donnie Tennyson, owner of Raley's Town and Country in Ridge, said the phenomenon of stuffed ham has reached far across the nation.

"It's amazing all the calls we get from all over the country asking about it," Tennyson said. "Either they know about us or find us on the Internet."

Residents in Hawaii have called up Raley's and asked for stuffed ham to be shipped to them, but so far international sales have eluded him.

"I'm not world famous, but that's my goal," Tennyson said with a laugh.

Stuffed ham is popular in just about any form it's cooked in, independent grocers say, and there are plenty of variations and methods for preparing it.

In places like Ridge, Tennyson said, cabbage is the predominant stuffing ingredient.

That's what he was raised on, but at Raley's they use just enough kale for a little flavor and color.

The farther north you go, Tennyson said, the more kale is used in the stuffing mixture.

"There's so many different variations," he said. "We've mused about putting a patent on our recipes."

The Raley's owner said he plans to bake 200 hams for the Thanksgiving holiday and will sell it by the pound.

He said that the stuffed ham business for independent grocers has grown because the knowledge has not been passed on in families where the older generations have traditionally done it for themselves.

"What we're seeing here is that the process is not being passed on to the next generation, Tennyson said. "They don't know how to stuff it or because of time they don't want to.

"It's becoming a lost art."

The stuffing part is where the most work usually happens, grocers say, and there are plenty of ways to do it.

At Raley's, they remove the large bone from the ham and simply stuff the cavity. At McKay's they sometimes cut open the ham, stuff the interior as it's laid out and them roll it back up and tie it off.

At Murphy's Town and Country in Avenue, which has been open since 1949, they take a more artistic bent with stuffing the ham, according to owner Gilbert Murphy.

"We cut slits through our ham from the inside, stuff it, tie it back up, wrap it in cheesecloth, steam it … and when you slice it, it looks like a star on the inside."

At Murphy's, the steaming process is used to keep all the juices and the seasoning in the ham, Murphy said.

At Raley's, they measure all the ingredients to ensure a consistency in their products, especially with the stuffing and seasoning. At Murphy's, they uses a more instinctive approach.

"I go just by how it looks," Murphy said. "I've been doing it so long I know exactly what I'm looking for."

Virginia Tennyson, co-owner of Chaptico Market in Chaptico, said they blanch their vegetables before making their stuffing.

They also cut half-moon shaped slits in the meat to accommodate as much spicy stuffing as possible.

"You stuff it until it comes back out at you," Virginia Tennyson said. "That's how you know."

Murphy also lamented the apparent loss of knowledge about preparing stuffed ham.

"It was like a big party," Murphy said. "It was like a fellowship; people would stuff the hams together. Today it's just not out there."

Stuffed ham is also important as a signature product among independent grocers who are competing with larger chains for customer dollars.

"During the holidays it's a big part of your business," Murphy, who plans to steam about 200 hams for the season, said. "But people like it so much we do it year round."

Items like stuffed ham, and other delicatessen goodies that are homemade, ensure that customers will keep coming back to the smaller stores, he said.

Virginia Tennyson said that stuffed ham and other delicacies help them make it through the lean times.

"That's what gets our livelihood through the holidays," she said. "Because if you get the ham customer, then they'll come back and get the cakes and the pies."

But the precious porcine delicacy doesn't come cheap. Most of the independent grocers are selling ham for close to or over $10 a pound.

The labor needed to stuff a ham plus all the ingredients and cooking time that go into it necessitate the high price, Donnie Tennyson said.

One of his hams can cost up to $150; with shipping costs of $4.49 a pound it could cost about $225 just to have one delivered, he said.

"And people buy it," he said. "And they don't bat an eye. They say 'OK, I want it.'"

Lenny's Seafood Restaurant owner Daniel Rebarchick said he once shipped one-half of a ham to someone in Colorado that cost $70 alone; but it cost $78 just to ship it.

"They said it was worth every penny," Rebarchick said.

RELATED INFORMATION:

Stuffed Ham Recipes by Southern Marylanders
http://somd.com/dining/recipes/meat/
Headline News Main Page
Discuss This Article in the Forums (or comment below)

Reader Comments Appear Below the Advertisement
FEATURED SPONSOR
Burchmart
Quality gas and good food at your convenience. Several locations to serve you throughout So. Md.!