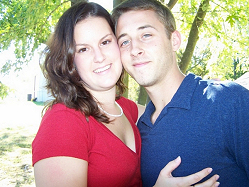 Emily Clifton of Mechanicsville, MD and Charles Stump of Lynchburg, VA were married on Saturday, May 28, 2011 in Charlotte Hall, MD. The bride is the daughter of Keith & Susan Clifton. The groom is the son of Doug & Alice Stump.
The newlyweds spent their honeymoon in Las Vegas, NV.
Emily works for NAVAIR in the Electro-optical Sensors Division. Charles is an apprentice with Steamfitters Local 602.