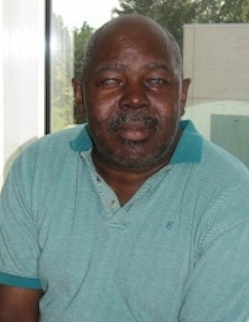 Louis Donnelly Mackall, born March 9, 1952 in Gambrills, Maryland departed his life on Thursday, August 15, 2013.

He attended and graduated from Calvert Senior High School in 1971. After graduation he pursued a career in business management. Through the programs of the Randolph-Sheppard Act, Louis obtained a vendors contract to manage snack bars in several Federal Government facilities. Louis was a hard and dedicated worker.

During his youth, Louis attended Mt. Hope United Methodist Church and was a member of the children's choir. Later he attended Morning Star Church in Upper Marlboro, MD.

Louis was a fun loving person and was known for his "clowning" personality and his late night phone calls just to say, "I Love You". He loved old school R&B and gospel music. He was a big fan of old TV shows; his favorite were The Andy Griffith Show, Gun-Smoke, The Rifleman and Big Valley.

He leaves to cherish fond memories: his wife of 40 years, Rosalind (Elseby); one daughter, Rosinetta Mackall; six grandchildren, Alexander, Renae, Delonte, Deontae, Raheem and Tyrrell; three sisters, Doris Jacks (Mackall), Florence Mackall, Darlene Parren (Johnson); four brothers, Leroy Boldley, Mark Mackall, Jerome Johnson and Levi Butler; and a host of aunts, nieces, nephews, cousins and friends. He was preceded in death by: his father, Leroy A. Mackall; his mother, Eva E. Butler (Harrod); one brother, Bruce Johnson; and one sister, Agnes Freeland (Johnson).

Arrangements provided by Sewell Funeral Home.