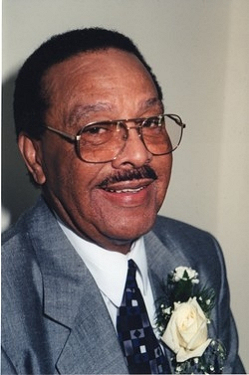 On Sunday, April 21, 2013 Theodore Newkirk Sr., of Lexington Park, MD departed this life at his home surrounded by family. Theodore was born on September 1, 1926 in Pender County, NC to the late Raymond Newkirk and Vandalia (Collins) Newkirk.

He was the fourth of six children. Ted, as he was affectionately known, was baptized as a child at the Point Caswell Baptist Church in Atkinson, North Carolina. He later attended the First Baptist Church of Lexington Park. He received his early education in the Pender County public school system in North Carolina.

Ted enlisted in the Army Air Corps on February 21st 1946 where he spent most of his tour of duty in Okinawa. He served in the 476th Aviation Squadron as a certified welder and Black Smith. Also while in Okinawa he attended the Okinawa Institute, studying math and English. Ted received the World War II Victory Medal as well as the Army of Occupation Medal.

After an honorable discharge from the Army Air Corps on April 20th 1947, he enrolled in the Maryland Technical Institute in Baltimore, Maryland. He graduated in 1949 with majors in physics, electronics, and trigonometry he graduated in 1949.

Ted then met and fell in love with the Mary Virginia Kenny. They were married in Baltimore City on April 25th, 1949, and resided there until relocating to Lexington Park in 1954. They were united in matrimony until the time of Ted's death.

While living in St. Mary's County, Ted became a well known pillar in the community always looking for opportunities to right the wrongs in society. He served as President of the NAACP for 10 years during the 1960's and 1970's where he was instrumental in integrating Great Mills High School. While serving as President, his branch was one of the 203 branches in the Nation whose membership total for 1970 exceeded their total for the previous year of 1969.

On April 28th 1968, a St. Mary's Today reporter asked Ted why he decided to join the NAACP and his response was "With me it wasn't a matter of deciding, it was a way of life. I always agreed with what the NAACP stood for. I have never been able to accept the idea that this is an NAACP problem. It is our problem. If you want to be a part of the solution, then join the NAACP".

Ted worked at the U.S. Naval Air Test Center at Patuxent River as an Electrical Environment Technician for 33 years. He retired January 8th, 1982 from the Aircraft Electrical Evaluation Facility. He worked with Cerberonics Inc. from 1982 - 1988 as an Electrical Engineer testing and repairing oxygen analyzers for Navy Pilots. In 1988 he founded and was President of Newkirk Enterprises, Inc., a construction company that built affordable homes.

Ted has always been active and vocal in politics, supporting representatives he felt would make a difference.

Ted was appointed by Governor Parris Glendening to the St. Mary's Alcoholic Beverages Board. He also served on the McKay's food store Board of Directors.

He was a member and Vice President of the St. Mary's County Hospital Board. Ted continued his community service as President/member of the Jolly Gents Club for several years. When the opportunity presented itself, he welcomed the chance to become a member of the Carver Elementary School PTA.

Ted has been an example to his family, friends and to the community all of his life. He has loved people but life is not measured merely by how much you love, but by how much you are loved by others. Theodore Newkirk Sr. was ,in fact, loved by others.

Ted is survived by his loving wife Virginia; his nine children: Charles Newkirk (Charlene), Stuart Newkirk (Lynn), Theodore Newkirk Jr. (Gladys) Gary Newkirk (Daylynne) Gwendolyn Newkirk Williams, Leah Ferreira (Dave), Bonnie Graves (Harvey), Felita Dorsey (Bobby), Lauria Turner (Archie); Newkirk; his devoted sister, Wilhelmina Murphy; several nephews and nieces; and faithful friend, Deborah Newkirk. He also leaves a legacy of (21) grandchildren and ( 10 ) Great grandchildren.

Ted was preceded in death by his one sister, Margret Norris; three brothers, Raymond, Willie and Rudolph Newkirk; his eldest son, Theodore Kellam; and his grandson, Jacobi Newkirk.

Family will receive friends for Ted's Life Celebration on Friday, May 3, 2013 from 10:00 to 11:00 a.m. at First Missionary Baptist Church, 46370 Pegg Lane, Lexington Park, MD 20653. A Funeral Service will be celebrated by Reverend Roderick W. McClanahan at 11:00 a.m. Interment will follow in Charles Memorial Gardens, 26325 Point Lookout Road N., Leonardtown, MD 20650.

In lieu of flowers, memorial contributions may be made to Hospice House of St. Mary's, P.O. Box 625, Leonardtown, MD 20650.

Arrangements by the Brinsfield Funeral Home, P.A., Leonardtown, MD.