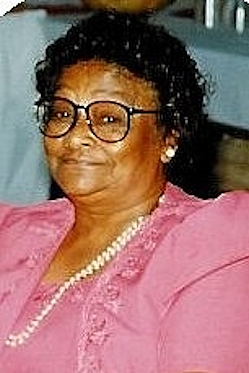 Rose Theresa Thomas, better known as Rosie, was born on June 25, 1929, to the late Margaret Cecelia Neale-Wilson and William Dent Wilson, Sr. Rose was born and raised in St Mary's County and attend St. Mary's County Public Schools. She was joined in Holy Matrimony to the love of her life Philip Thomas on October 26, 1947.

Rose was a devoted wife of 65 years to her husband Philip Thomas. Rose loved her husband dearly and they were truly joined together as one. From their union 11 children were born: Louis Alfred (Lisa), Ralph Ignatius, Helen Theresa Smith, Bernard Wade (Anita), Michael Sylvester, Doris Marie Eaton (Thomas), Calvert Eugene, Clara Louise Woodson (David) and the late John Philip, William Henry and Douglas Xavier and a special God daughter Sheila Thomas-Wright.

Rose was a devoted and devoted Catholic and attended Our Lady of the Wayside Church in Chaptico, MD. She always prayed the rosary and watched Mass when she was not able to physically be at church. On those particular Sundays, Reverend Jerry Gamrot and Charles Carter would visit with her and serve her the body of Christ. She participated in the Annual Our Lady of the Wayside Church festivals in which she donated vegetables from her garden and meats from the farm that she prepared and served to the guests.

She worked alongside of her husband on the farm. When Philip worked away from the farm, Rose ran the farm better than any person could. She did not skip a beat. Philip would come home from work and say, "how did you get all that tobacco cut down and put in the barn" or whatever the amazement was for that day. He was truly amazed by her talents. Not only was Rose the Chief Executive Officer (CEO) of the farm but she was the CEO of the household as well.

Her days were long but to her they were days filled with things that had to be done. She would getup 4:00 in the morning, make the fire to warm the house and fix Philip's lunch and get him off to work then get the children up and feed them breakfast and saw to it that they fed the farm animals before going to school. She would then start to prepare lunch and dinner. She would place the huge pots on the wood burning stove to slow cook while she did other chores and by lunch time the food would be ready to eat. Then she made sure the children coming home from school completed their homework before they worked the farm.

In addition to working the farm, she would grow the best vegetable and rose gardens. She was known for her stuffed hams, canning of vegetables and preserving of fruits in which she shared with friends and family as far away as Baltimore, Maryland. Her day did not end until 10:00 at night. Rose also worked at various restaurants throughout her career. What a woman!

She is survived by 12 grandchildren Angela Woodson Agee, Nicola Bush, Jonathan Thomas, Frazier Smith (Quiona), Michael Herbert, April Jones, Shannon Thomas, Keyishia Baker (Zackery), Brittany Woodson, David Woodson Jr., Davon Eaton and Taryn Eaton; 15 great-grandchildren Jalisa Thomas, Aquera and Anika Agee, NeKiaya Barnes, Demetrius Thomas, Jamauri Lovett, Deon Jones, Keon Smith, Kiara Smith, Graylin Walker, Alonte Dodds, Nahlia Baker and Dominic Xavier Gonzalez and the late John Philip Thomas Jr. and Ralph Ignatius Thomas Jr.

She is also survived by two sisters and two brother in-laws Christine Chavis (Wesley) and Helen Thomas (Nathaniel) and a host of nieces and nephews and family members and friends.

She was preceded in death by her siblings: Bernard Wilson Sr., Joseph Wilson, William Wilson Jr., Aloysius Wilson, Mary Feazell, Pearl Holton, Margaret Thompson, Doris Briscoe and Lucille Makle.

The family will receive friends on Thursday, April 25, 2013 from 5:00 PM – 8:00 PM with prayers recited at 7:00 PM in the Mattingley-Gardiner Funeral Home Leonardtown, MD. A Mass of Christian Burial will be celebrated on Friday, April 26, 2013 at 10:00 AM in Our Lady of Wayside Catholic Church Chaptico, MD with Father Jerry Gamrot officiating. Interment will follow in Queen of Peace Catholic Cemetery, Helen, MD.

Arrangements provided by Mattingley-Gardiner Funeral Home, Leonardtown, MD.