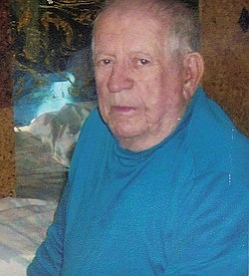 William A. "Fox" Quade, Sr.,86, of Lexington Park, MD passed away surrounded by his loving family on April 16, 2013 in Fredericksburg, VA. Born on July 9, 1926 in Oakville, MD, he was the son of the late Richard Edward and Alice Saint Plaummia R. Quade.

William was the loving husband of Catherine Wood Quade whom he married in Leonardtown, MD on July 13, 1991.

William is survived by his children; James F. Quade and Stephanie Quade both from VA, William A. Quade, Jr. of IA, Kevin W. Quade of Great Mills, MD, George Oliver of Hollywood, MD, James Duffy, Chris Duffy, and Kevin Duffy, Sr., all of Lexington Park, MD, Cindy Passmore and Pam French both of Leonardtown, MD, 28 grandchildren, and 2 great grandchildren. William is also survived by Sister Josephine Quade Copsey, and Brother Franklin Quade of Bushwood, MD.

William is preceded in death by his siblings; Richard Henry Quade, George Quade, Russell Quade, Elizabeth (Bessie) Quade, Leonard Quade, Richard Claude Quade, and Gertrude Quade twin sister of William.

William worked as a carpenter in his early years, and worked as a cab driver for Friendly Cab for 20 years retiring in January, 1998. William loved to watch Baltimore Orioles games, playing bingo, and spending time with his grandson Lil Kevin.

The family will receive friends on Monday, April 22, 2013 from 5:00 PM – 8:00 Pm with prayers recited at 7:00 PM in the Mattingley-Gardiner Funeral Home Chapel, Leonardtown, MD. A Funeral service will be held on Tuesday, April 23, 2013 at 10:00 AM in the Mattingley-Gardiner Funeral Home Leonardtown, MD with Deacon Bill Nickerson officiating. Interment will follow in Immaculate Heart of Mary Catholic Cemetery Lexington Park, MD.

Arrangements provided by Mattingley-Gardiner Funeral Home.