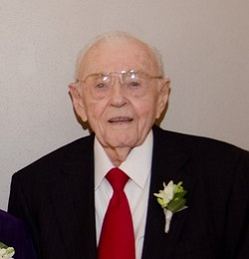 Leroy Timmons, Jr., 92, of Leonardtown, MD passed away on April 18, 2013 at Prince George's Hospital Center. Born October 27, 1920 in College Park, MD, he was the son of the late Leroy Timmons, Sr. and Carolyn LaValle.

Leroy married the love of his life, Cleo Windsor, on August 29, 1942 in Arlington, VA.

He served in the U.S. Army from September 17, 1942 to November 15, 1945. Leroy worked in the Department of Agriculture for the U.S. Government for 29 years before retiring in 1967. After retiring, he moved to St. Mary's County where he owned and operated Tim's Marina in Colton's Point, MD.

Leroy is survived by his wife, Cleo W. Timmons; his son, Raymond W. Timmons (Vickie), of Leonardtown, MD; his grandchildren, Carrie Burke (David), Mark Timmons (Donna), Heather Wilcox (Chris); and his great grandchild, Lindsey Wilcox. In addition to his parents, Leroy was predeceased by his son, Ronald L. Timmons.

A Visitation will be held on Tuesday, April 23, 2013 from 5:00 to 8:00 p.m. at the Brinsfield Funeral Home, 22955 Hollywood Road, Leonardtown, MD 20650. A Funeral Service will be celebrated by Pastor Linda Purdy on Wednesday, April 24, 2013 at 11:00 a.m. at the Brinsfield Funeral Home. Interment will follow in Fort Lincoln Cemetery, 3401 Bladensburg Road, Brentwood, MD 20722.

Arrangements provided by Brinsfield Funeral Home, P.A., Leonardtown, Maryland.