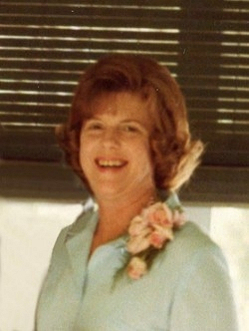 Constance Panthen Schwab, 82, of Piney Point, MD died April 17, 2013 at Med Star St. Mary's Hospital in Leonardtown, MD. She was born May 23, 1930, in New York, NY to the late Karl Albert Panthen and Constance Mildred Craigie.

Constance graduated from Hollins College in Roanoke, VA with a Bachelor of Arts in English. She moved to St. Mary's County in 1975 from La Plata, MD. Prior to her retirement she was employed as a special education social worker for Planned Parenthood of Maryland. She greatly enjoyed helping people.

She was an avid reader. She especially loved being outside soaking up the sunshine. She loved to swim, go to the beach, and take cruises. She also enjoyed playing bridge and being with her friends. She was very social and never met a stranger. However, her greatest pride and joy was her granddaughters. She made many trips to visit them in California.

Constance is survived by her husband, Walter Snowden Schwab, of La Plata, MD; her children, Laura Blumer (Ray) of San Clemente, CA and Steven Scwab (Barbara Peck) of La Plata, MD; her brother, Karl Pathen (Barrie) of Yonkers, NY; her granddaughters, Dana Blumer, Victoria Blumer and Rachel Constance Blumer, all of San Clemente, CA; and her long time friend, Larry Proctor.

She is preceded in death by her parents.

Family will receive friends on Saturday, April 20, 2013 from 6 to 8 p.m. with a prayer service by Deacon George L'Heureux at 7 PM at Brinsfield Funeral Home, P.A., 22955 Hollywood Road, Leonardtown, MD 20650. A graveside service will be held on Sunday, April 21, 2013, at 10:00 AM at Mount Rest Cemetery in La Plata, MD.

Memorial contributions may be made to Boys Town, 14100 Crawford Street, Boys Town, NE 68010 or St. Jude Children's Research Hospital, P.O. Box 1000, Dept. 142, Memphis, TN 38148.

Arrangements by the Brinsfield Funeral Home, P.A., Leonardtown, MD.