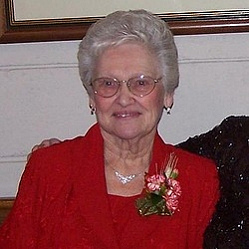 Paula "Eloise" Gibson, 83, of Bushwood, MD passed away in her home surrounded by her loving family on March 5, 2013. Born on June 25, 1929, she was the daughter of the late Joseph Oscar and Edna Mildred Wheeler Hayden.

Eloise was the loving wife of Francis DeSales Gibson, Sr. whom she married in Bushwood, MD on April 18, 1949, and whom preceded her in death on January 30, 1998.

Mrs. Gibson is survived by her children; Francis DeSales Gibson, Jr., Stephen M. Gibson, Sr. (Donna), David A. Gibson, Sr. (Bobbi) and Rebecca J. Trossbach (Ronnie) all of Bushwood, MD, Linda M. Shepherd (Arthur) of Leonardtown, MD, Judith A. Clark (Dan) of Charlotte Hall, MD., Paul "Eric" Gibson, Sr. (Paula) of Chaptico, MD, 21 grandchildren, 16 great-grandchildren, and brother Bertram Hayden of Avenue, MD.

Eloise is preceded in death by her siblings; Joseph, Milford, Ernest, and Martin Hayden. She was a graduate of St. Mary's Academy and a lifelong resident of St. Mary's County.

Eloise was faithful to her church and prayer. She loved spending time with her family, and especially getting visits from her grandchildren and great-grandchildren. Following the death of her beloved husband Francis in 1998, and until a debilitating stroke in 2008, she was a very independent lady that was known for taking care of others before herself.

She enjoyed nature and marveling at the beauty of changing seasons, sight-seeing, flowers, bird watching and space shuttle sky-watching. She also enjoyed reminiscing and sharing stories of olden days, playing the piano, cooking, and the company of her cat "Misty".

The family will receive friends on Thursday, March 7, 2013 from 5:00Pm -8:00 PM with prayers recited at 7:00 PM in the Mattingley-Gardiner Funeral Home Leonardtown, MD. A Mass of Christian Burial will be celebrated on Friday, March 8, 2013 at 12:30 PM in Sacred Heart Catholic Church Bushwood, MD with Father Francis Early officiating. Interment will follow in the church cemetery.

Pallbearers will be; Francis D. Gibson, III, Paul E. Gibson, Jr., Stephen M. Gibson, JR., David A. Gibson, Jr., Joshua R. Trossbach, Jeffrey M. Hayden, Thomas J. Gibson, and D. Lucas Gibson. Honorary pallbearers will be; grandchildren and great grandchildren.

Contributions may be made to the Seventh District Vol. Rescue Squad, P.O. Box 7 Avenue, MD 20609, and/or Hospice of St. Mary's P.O. Box 625 Leonardtown, MD 20650.

Arrangements provided by Mattingley-Gardiner Funeral Home.