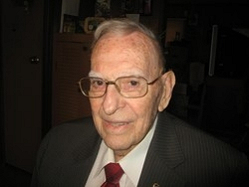 Raymond (Ray) Lacy Hanback.

Ray was born on November 18, 1920, in Orange, VA to Raymond L. & Susie Hanback. He attended Washington Lee High School where he met his wife, Margaret.

Ray served in the Army in Germany during WWII. Upon his return from the war, he and Margaret founded the H&A Printing Co. in Arlington, VA. He was a member of the Arlington Host Lions Club, and active in the Virginia State Printer's Assn.

In 1968, he and Margaret sold their business and moved to Sandgates, MD., where he became active in the Mechanicsville Lions Club. Ray's lifelong hobby was woodworking. Upon retirement he became a member of the St. Mary's Craft Guild. Many people in the community have benefited from his talents. He has also been a longtime member of Mt. Zion Methodist Church.

Ray is survived by his son Michael (Glenda) of Des Moines, IA; daughter-in-law, Joy of Fredericksburg, VA. 3 grandchildren, 2 step grandchildren, and 9 great grandchildren. Close friends, Rich & Carole Johnson, Judy Dillon, and many neighbors, and friends.

He was preceded in death by his wife, Margaret in 2001, son Patrick in 2009, and his parents.

Visitation will be held at Brinsfield-Echols Funeral Home in Charlotte Hall from 6-8 pm on Friday, March 22. Funeral services will be held at Mt. Zion Methodist Church at 10:00 a.m. on Saturday, March 23.

Arrangements provided by Brinsfield-Echols Funeral Home.