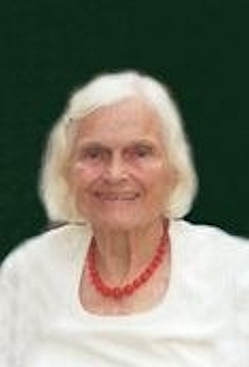 Edna Lois Barger, 86, of Hollywood, MD, devoted wife and mother of three children, died peacefully in her home on Saturday, March 2, 2013.

The beloved wife of C. Boyden Barger and daughter of the late James W. Anderson and Mamie Lee Nichols, she was born August 24, 1926 in Clearwater, FL.

Mrs. Barger is remembered for being an early employee in the Fingerprint Division of the newly-founded Federal Bureau of Investigation (FBI), a modest homemaker and mother of three children, and an active member of the church. She conducted the accounting and clerical sides of the excavating business she helped run with her husband for over 40 years. She enjoyed gardening, sewing and painting.

Edna is survived by her husband, three children, one grandchild, and many friends. Her children include Robert B. Barger of California, MD; Donald C. Barger of Upper Marlboro, MD; and Ann B. Wyvill and her husband Anthony of Hollywood, MD. Her lone grandchild is Alexander J. Wyvill of Hollywood, MD; her sole sibling was the late James N. Anderson of Newborn, GA.

Family will receive friends for Edna's Life Celebration on Thursday, March 7, 2013 from 5 to 8 PM at the Brinsfield Funeral Home, 22955 Hollywood Road, Leonardtown, MD 20650. A funeral service will be held at 11 AM on Friday, March 8, 2013 in the Brinsfield Funeral Home Chapel. Interment will immediately follow in St. Mary's Queen of Peace Cemetery, 38888 Dr. Johnson Road, Mechanicsville, MD 20659.

In lieu of flowers, donations may be made to Hospice of St. Mary's, P.O. Box 625, Leonardtown, MD 20650. Online contributions to Hospice of St. Mary's may be made at https://www.giving.stmaryshospitalmd.org/SSLPage.aspx?pid=272. NOTE: Use the "Other" designation from the drop-down to provide a space for the notation via the online form.

Arrangements by the Brinsfield Funeral Home, P.A., Leonardtown, MD.