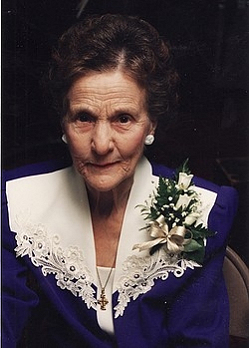 Edith (Edna) May Tippett, 92, of Mechanicsville, MD died on Sunday, February 24, 2013 in Hospice House of St. Mary's in Callaway, Maryland. Born on June 22, 1920 in Plymouth, England, she was the daughter of Edith Emily and Francis Chubb.

She was a devoted wife, mother, grandmother, great-grandmother, and homemaker.

Edith, known to her friends as Edna and to her grandchildren and great grandchildren as Maw Maw. She was truly an Angel sent from Heaven. She was well loved by all who knew her and touched the lives of all she met.

She loved to take care of her family, attend church, read daily scriptures and verses from her bible, and many other spiritual books given to her throughout her life by her family. She loved flowers, her afternoon tea, her chocolates, and John Wayne movies.

She served in the British Royal Navy in England from 1941-1945. There she met her husband, Andrew L. Tippett, Sr. who was serving in the United States Army and was stationed in England during World War II. Edith and Andrew were married on November 30, 1944 and came to the United States in February of 1947. She was a faithful member of the Immaculate Conception Catholic Church of Mechanicsville, Maryland.

She was preceded in death by her husband Andrew L. Tippett, Sr. who passed away on July 21, 1997 , parents Edith Emily and Francis A. Chubb, sister Lillian D. Chubb, 2 brothers George and Frank Chubb, 3 sons Terence D. Tippett (Terry) Nathan T. Tippett, Bradley Thomas Tippett, and great-grandson Brandon M. Weber.

She is survived by her sister Violet Dobson of Plymouth, England, children; Teresa A. Buckler and son-in-law Leroy Buckler, Jr., of Charlotte Hall, MD., Virginia L. Weber (Ginny) and son–in–law JP Weber of Mechanicsville, MD., Andrew L. Tippett, Jr. (Drew) and daughter in law Gloria Tippett of Mechanicsville, and Sharlene M. Cross and son in law Steve Cross, Sr. of Mechanicsville, MD., Mary Tippett, daughter in law of Walker, LA, also survived by 15 grandchildren; Lori Gilbert, Kim Thompson, Jeffrey Weber, Jason Weber, Jessica Weber, Bradley Tippett, Jamie Tippett, Tiffany Rowe, Stephen Cross, Jr., Vicki Rice, Joe Mike Tippett, Ritchie, Tippett, Ron Emerson, Veronica Higgs all of St. Mary's County, and Jenny Belcher of Walker, LA, 24 great grandchildren; Russell Gilbert, Ryan Gilbert, David Thompson, Erika Weber, Hailey Weber, McKayla Buckler, Dylan Buckler, Ethan Nairn, Jessalynn Weber, JT Tippett, Austin Tippett, Conner Tippett, Gage Belcher, Charisma Belcher, Michael Tippett, Mathew Tippett, David Tippett, Hailey Rice, Lindsey Rice, Owen Tippett, Andrew Tippett, Olivia Higgs, Jarrett Higgs, and Elizabeth Emerson.

Pallbearers will be: Jeffrey Weber, Jason Weber, Jamie Tippett, Bradley Tippett, Joe Mike Tippett, Ritchie Tippett, Stephen Cross, Jr., and Ron Emerson, Jr. Honorary pallbearers will be; Charlie Gilbert, Eddie Thompson, David Rowe, Mickey Ryce and David Goldsborough.

The family is requesting the contributions be made to Hospice House of St. Mary's, P.O. Box 625, Leonardtown MD 20650.

Arrangements provided by Mattingley-Gardiner Funeral Home.