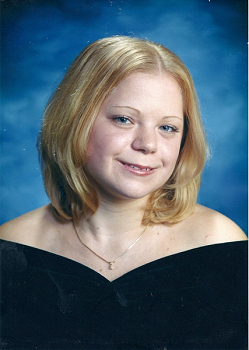 Amanda Lynn Foster, "Mandy", 27 of Lusby, MD died suddenly on January 12, 2013 at her residence. She was born on April 12, 1985 in Prince Frederick, MD to Franklin D. Foster and Jeanne Marie Sypult Foster.

She is survived by her mother Jeanne M. Foster of Lusby, MD; father Franklin D. Foster and his wife Janice Carpenter of Johns Island, SC sisters Amanda E. Foster of MD, Samantha Jo Foster of NY, Sarah N. Riggleman of Prince Frederick, MD and Becky A. "Boo Boo" Calvert of Lusby, MD; grandparents Jim and Martha Bliss of Lusby, MD and Bruce` Saville of Clear Brook, VA. She is also survived by numerous aunts, uncles, cousins, nephews and many friends.

The family will receive friends on Wednesday, February 6, from 6-8 PM at the Rausch Funeral Home, P.A., 20 American Lane, Lusby, MD 20657. A memorial service celebrating her life will be held on February 7, 2013 at 11:00 AM in St. Paul United Methodist Church, 11000 H. G. Trueman Road, Lusby, MD with Pastor David Graves officiating. Interment is private.

Should friends desire contributions may be made in Mandy's memory to the "In memory of Mandy Foster" Memorial fund C/O of any PNC Bank Branch Office or may be mailed to 37650 Oak Station Drive, Charlotte Hall, MD 20622 or to the Abused Persons Program, Calvert County Health Department, 975 Solomons Island Road, P. O. Box 980, Prince Frederick, MD 20678.

Arrangements provided by Rausch Funeral Home.