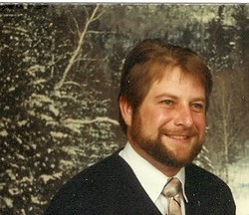 Richard Peter Gerard Humulock, Sr., 57, of Mechanicsville, Maryland died at home on December 13, 2012. He was born in Champaign-Urbana, Illinois on April 19, 1955 to Alexander Anthony Humulock Jr. of Romulus, New York and the late Millicent (Patterson) Humulock of Romulus, New York.

He recently retired after working many years as a Landscape Architect and Tree Surgeon at Architect of the Capital for the U.S. Government. Richard (also known as Rick to some friends, and always Peter to his mother) had a huge heart and most enjoyed what he loved the most: spending time with his family, being silly, and taking many pictures with them; also doing the same with friends. Hunting, fishing, and just being outdoors, especially with loved ones, was his favorite pastimes. He also enjoyed working in his yard and landscaping, which he proudly made a living doing on our Nation's Capital grounds.

In addition to his father, Richard is survived by his former wife (whom he remained close with) Joan Colleen Humulock; his three loving children, Richard Peter Gerard Humulock, Jr., Lauren Kimberly Humulock, and Emily Cathryn Colleen Humulock; his three brothers, Alexander Anthony Humulock III, Christopher Humulock, and Andrew Humulock; his two sisters, Rebecca Stallings and Stephanie Lewis; many beloved nephews and nieces; and his loyal black lab Jake, who was never far from his side.

Family and friends will be received for Richard's Life Celebration on Friday, December 21, 2012 from 2:00 PM to 4:00 PM and from 6:00 PM to 8:00 PM, with prayers beginning at 7:00 PM at Brinsfield-Echols Funeral Home, P.A., 30195 Three Notch Road, Charlotte Hall, MD 20622. There will be a Mass with Service on Saturday, December 22, 2012 at 11:00 AM at Our Lady of the Wayside Catholic Church, 37575 Chaptico Road, Chaptico, MD 20621.

In Lieu of flowers, memorial contributions may be made to: Community Crisis Services, Inc. http://www.communitycrisis.org/contribute/ or Seventh District Volunteer Rescue Squad http://www.sdvrs59.com.

Arrangements provided by Brinsfield-Echols Funeral Home, P.A.