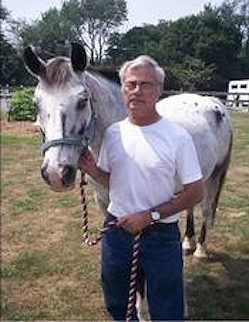 Lawrence Michael Stepien, 64, affectionately known to family and friends as Larry, quietly departed this earthly life for one eternal on November 18, 2012. He was born August 11, 1948, in Buffalo, New York where he was raised by his parents Carmeline and Chester Stepien.

Larry attended Buffalo Diocesan Preparatory Seminary and then Cansius College in Buffalo, NY. In 1973, he joined the U.S. Army where he was a career soldier, retiring after 22 years of dedicated service. After retirement, Larry eventually settled in the Baltimore/DC area to be closer to his daughters, Ellery and Sandra.

Larry had many interests including reading books from historical to fiction. Being a soldier, he was interested in guns and history. He was also interested in motorcycles and his newest fondness was horses. He has always been a dog-lover and was always spoiling the family dog, Buddha.

Larry is survived by two daughters, Ellery Stepien and Sandra Sanna and their mother Elena "Helen" Stepien, two grandchildren, Nicholas "Nico" Sanna and Jody "JoJo" Sanna Jr; his sister, Anne; and nephew Jonathan and his spouse, Christa and children Joseph John "J.J." and Sydney. He is also survived by close family friends, James "Jimmy" Buckles and Gabrielle Buckles and many other extended family members.

His viewing will be held on Wednesday, November 28th from 10:00am until Mass of Christian Burial 11:00am at St. Mary, Star of the Sea Church, 30 Mattingly Avenue, Indian Head, Maryland. Interment Maryland Veterans Cemetery, Cheltenham, Maryland.

In lieu of flowers, the family requests donations be made "In Memory" of Larry to the Wounded Warrior Project at www.woundedwarriorproject.org.

Arrangements entrusted to Thornton Funeral Home, P.A., Indian Head, MD.