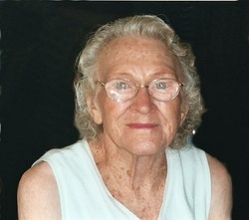 Carrie Elizabeth Welch, 91 of St. Inigoes, MD passed away on September 22, 2012 at St. Mary's Hospital. Carrie was born on August 5, 1921 in Newport, MD to the late Samuel Wilson Ryce and Mary Etta (Della) Ryce.

Carrie lived in St. Inigoes, MD all of her life where she and her husband farmed the land at their home on Beachville Road. She enjoyed spending time playing cards and working on crossword puzzles.

Carrie is survived by her children, Brenda M. Sellers of Mechanicsville, MD, Lloyd J. Welch (Sue) of Cobb Island, MD, Ronald F. Welch (Joan) of St. Inigoes, MD; twelve grandchildren; many great grandchildren; and one great-great grandchild.

In addition to her parents, she was preceded in death by her husband, Earl Joseph Welch, and her children, Claudia Dale Welch Rolfe and Earl Wayne Welch.

Family will receive friends for Carrie's Life Celebration on Thursday, September 27, 2012 from 10:00 a.m. to 11:00 a.m. at St. Michael's Catholic Church, 16566 Three Notch Road, Ridge, Maryland 20680. A Mass of Christian Burial will be celebrated by Father Lee Fangmeyer at 11:00 a.m. Interment will follow in St. Michael's Catholic Church Cemetery.

In lieu of flowers, donations may be made to St. Michaels Catholic Church, P.O. Box 429, Ridge, Maryland 20680 or the Ridge Volunteer Rescue Squad, P.O. Box 456, Ridge, MD 20680.

Arrangements by the Brinsfield Funeral Home, P.A., Leonardtown, MD.