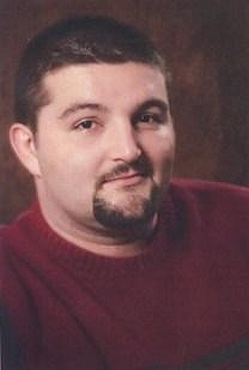 Brian Scott Jonelis died September 10, 2012 in Annapolis, Maryland at the age of 33. Born October 10, 1978 in El Cajon, CA. He was the son of Andrew Jonelis III and Diane Jonelis.

Brian attended school in Puerto Rico, Virginia Beach and Iceland before arriving in Maryland in 1992 where he attended Westlake High School in Waldorf. Brian was a member of Westlake High School's first Varsity Football and Wrestling teams, and a graduate of the Class of 1996.

After graduation, Brian joined the US Marines, attended Boot Camp at Pasrris Island, SC., and served as a Helicopter Mechanic aboard the HSM-266 and MAG-26 where he deployed to the Middle East. After leaving the Marine Corps, Brian worked for Lockheed Martin in Marietta, GA on the F-22 Raptor and DynCorp at Andrews Air Force Base as a Crew Chief supporting the 1st Helicopter Squadron.

Brian enjoyed being with friends and family, making people laugh, he was a die-hard Washington Capitals and Redskins fan. Brian was a veteran of the United States Marine Corps from 1997 through 2001.

Survivors include: His parents Andrew and Diane, sister Cheryl Jonelis, nephew Seneca Jonelis, niece Kadence Jonelis, grandmother Dolores Vigneault, friend and close companion Nikki Hangsleben, and his faithful companion for the past 10 years, Debo.

Visitation will be held on Friday September 14, 2012 from 6:00 - 8:00 pm., at The Huntt Funeral Home 3035 Old Washington Road, Waldorf, Maryland. Mass of Christian Burial will be offered on Saturday, September 15, 2012 at 11:00 am, at St. Joseph's Catholic Church, Pomfret, Maryland. Burial will be held at Arlington National Cemetery at a later date.

Arrangements provided by Huntt Funeral Home.