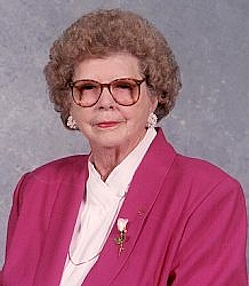 Mrs. Addison was a Manager for 20 plus years at Marshall Hall Amusement Park and an Antique Shop Owner at Marshall Hall, Peddlers Paradise, and Culpeper, VA since 1949 and was also a member of St. Peter's Catholic Church in Waldorf, MD. She was a daily mass-goer at Precious Blood Catholic Church in Culpeper, VA and a member of the Maryland State Central Committee of the Charles County Democratic Club, and voted in every election.

Daughter of the late Frederick William Hennings and the late Virgie Anna Burgess Hennings.

Predeceased by her parents; her husband, L. C. Addison; three late brothers; and one late sister.

She is survived by two daughters, Elizabeth A. Moreland of Waldorf, MD and Margaret A. (Randolph) Hyde of Rixeyville, VA; two sisters, Elizabeth H. Bjorum of La Plata, MD and Virginia H. (Magruder) Dent of Vero Beach, FL; two grandchildren, Elizabeth H. May and Randolph Hyde, Jr.; and four great-grandchildren, Kathleen, Alex, Jimmy, and Kevin.

Her visitation will be held on Thursday, March 15, 2012 from 11AM until Mass of Christian Burial at 12 Noon at St. Peter's Catholic Church in Waldorf, MD. The clergy will be Fr. Zygmunt Kurzawinski with G. Clinton Addison, William E. Cole, J. Ronald Hennings, John E. Lochte, Jr., John E. Lochte, III, and Robert H. Moreland as pallbearers.

The internment will follow the mass at Trinity Memorial Gardens in Waldorf, MD.

Memorial contributions may be made to Epiphany Catholic School (114 Est Edmondson Street, Culpeper, VA 22701) OR The Southern Maryland Carousel Group, Inc. (PO Box 2227, La Plata, MD 20646).

Arrangements provided by Raymond Funeral Service.