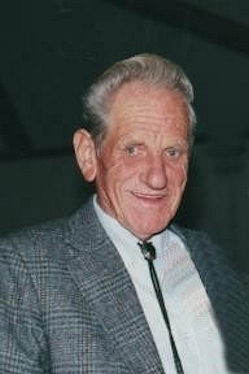 L. Melvin Foster, 82 of Callaway, MD died on Tuesday, August 23, 2011 at his home surrounded by his loving family. Born October 13, 1928 in Albemarle County, VA son of the late Henry Nelson and Ethel May Foster.

He is survived by his loving wife of 62 years, Joyce Blackwell Foster, five children, Deborah Knott of Ocala, FL, Anita Stevens and husband, Marin of California, MD, Jennette Foster of Callaway, MD, Kerry McKay of La Plata, MD and Lawrence Melvin Foster, Jr. and wife, Corey Anne of Great Mills, MD, a most special nephew, Greg Foster and his wife Diane and family, one brother, L. Eddie Foster and wife Jeanie of Brandywine, MD, three sisters, Marie Herring and Catherine Dudley of Charlottesville, VA, and Frances Morris of Crozet, VA. Also survived by eight grandchildren, Karen Siebert (Martin), Michael Peacher (April), Bobbie Jo Knott, Maggie Foster, Kevin McKay (Katie), Matthew Peacher (Katie), Joey Foster and Lisa Foster, eight great-grandchildren, and many nieces and nephews.

He was a horseman that always had a twinkle in his eyes. He enjoyed his lifelong trade. His horse trading extended through various states which provided him many good times and good friends. With his horse trading he was able to provide many children and families with the unique wonderful experience of horse ownership. He enjoyed participating and supporting local 4-H clubs. He frequently enjoyed competitive trail rides and horse shows with his children, grandchildren and great grandchildren.

Since 1974, he has been an avid member of Alcoholics Anonymous (AA); however, he was never anonymous about his membership. He attributes AA to giving him his life back and always thanked Dr. Rene Grace for sending him there. The knowledge and support he received in AA enabled him to open his heart and home to help countless others. He leaves behind these treasured friends with the hopes they will carry on the tradition of helping others. Melvin most often chose the road less traveled which brought him great fulfillment and satisfaction during his life.

Family will receive friends for Melvin's Life Celebration on Friday, August 26, 2011 from 2:00 to 8:00 p.m. with prayers recited at 7:00 p.m. at the Brinsfield Funeral Home, 22955 Hollywood Road, Leonardtown, MD. A funeral service will be held on Saturday, August 27, 2011 at 10:00 a.m. in the funeral home chapel. Interment will follow in Charles Memorial Gardens, Leonardtown, MD.

Serving as pallbearers will be Michael Peacher, Matt Peacher, Kevin McKay, Kris Foster, Martin Siebert, Richard Riche, Nathan Hedrick and Johnny Archer. Serving as honorary pallbearers will be Lauren Siebert, Autumn Peacher, Brandon Peacher, Jack Siebert, Katelyn Rippeon, Olivia McKay, Olivia Peacher, and Ava Peacher.

Memorial contributions may be made to Jude House, Inc., P.O. Box 1057, La Plata, MD 20646 or Hospice of St. Mary's, P.O. Box 625, Leonardtown, MD 20650.

Arrangements provided by Brinsfield Funeral Home.